Phonebook: no reasons to grudge
The phonebook of Samsung M8800 Pixon can store up to 2000 contacts with multiple fields. Those aren't as many as some other manufacturers can offer but we doubt it anyone will ever need more.
The names from either the SIM card or the phone memory can be displayed, or both can appear simultaneously. The contacts can than be ordered by either first or last name. Searching is done by gradual typing of the desired contact's name.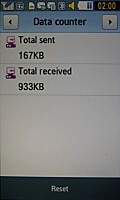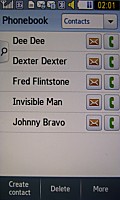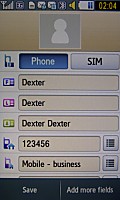 The phonebook has extensive capabilities
Quite a number of different information fields are available for each contact. You can store up to 5 numbers, 4 email addresses, URLs and so on. Each contact can also be assigned a specific ringtone (audio or video) and picture, as well as a note.
Contacts can be organized into groups, which can then have their own ringtones and pictures. Contact details or your whole phonebook can be sent via Bluetooth, email or text message.
The Call Log application keeps track of latest calls. Both the Call key in stand-by and the call log icon from the menu give you access to the application. It has four tabs - dialed numbers, received and missed calls and all combined. Finally, there are also data and call time counters and even a call cost feature can be enabled if you provide information about your subscription plan.
Telephony and speakerphone performance
Samsung M8800 is very good at its main job - making calls. There are no issues with the voice quality on either end.
Dialing with Samsung M8800 Pixon is almost as plain as it can get (save for the fact that the 12-key alphanumeric pad is on the screen). We would have preferred some sort of smart dialing to facilitate accessing your phonebook entries but not this time.
As for the loudspeaker performance, here is how the Pixon ranks alongside some of the other devices we have tested. You can find more details about the test itself, as well as the full list of tested devices here.
| | | | | |
| --- | --- | --- | --- | --- |
| Speakerphone test | Voice, dB | Pink noise/ Music, dB | Ringing phone, dB | Overal score |
| Apple iPhone 3G | 66.1 | 62.1 | 71.7 | Below average |
| Samsung Armani | 69.7 | 64.6 | 71.0 | Average |
| Samsung F480 | 66.3 | 66.6 | 75.7 | Good |
| Samsung M8800 Pixon | 75.7 | 69.6 | 82.1 | Very good |
| LG KF750 Secret | 75.6 | 72.7 | 82.8 | Excellent |
Key-less Messaging
As you might have expected, Samsung M8800 Pixon handles all common message types. The handset has a shared editor for SMS, EMS, MMS and a separate one for emails. A rich T9 dictionary is at the user's disposal too. In case message sending fails, the message is automatically saved to the outbox, so you can try sending it later.
Unlike the F480, the Pixon offers a choice of three different input methods. The first is a 12-key standard phone keypad that takes about half the screen. The keys are all large enough but typing on touchscreen is usually not the best experience. Haptics help but are still short of the solid press feedback of regular keys.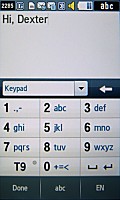 A standard 12-key keypad is the main text input option
When keypad input is selected and the phone is rotated, a full landscape QWERTY keyboard appears. Its keys are not as large as the 12-key keypad but if you have the stylus at hand it is a whole lot faster to type. Besides, with some training you will probably be able to cope without the stylus. It is also important to note that unlike the LG KC910 Renoir the full QWERTY keyboard is available in the java applications as well.
The final inputting mode is handwriting recognition. You can opt between writing all across the screen, on half of it or in four boxes. Three of the boxes handle letters while numbers and symbols belong in the fourth. Keeping to those restrictions might not be the easiest around but it certainly improves recognition.
If you like you can also activate a delivery report for the SMS and EMS. MMS can have a preset size limit of either 30, 100 or 300 KB.
There is room for 500 SMS, 30 push messages and 200 broadcast messages in Samsung M8800 Pixon. As far as emails and MMS are concerned, they are not limited in number and storage depends on the free memory only. There is normally plenty of space available for those, as the built-in memory is 200 MB. Incoming messages, like calls, can be blocked based on a user-defined black list.
The email client is very good. It can manage multiple accounts - POP or IMAP; download is user-defined, opting between headers only and entire messages. SSL and TLS security protocols are also supported so no worries there.
Not only any files from the phone memory, but also business cards, calendar events, tasks or notes can be emailed as attachments.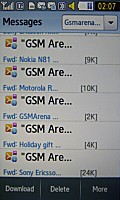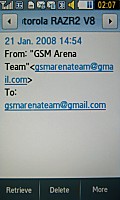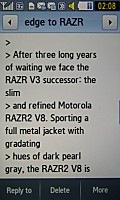 Checking email on Samsung M8800 Pixon
Finally, Samsung M8800 Pixon also features an improved version of the SOS message feature. It allows you to quickly send one to five SOS messages to up to 5 predefined numbers. The message text can also be customized. After setting up the feature, all you need in case of an emergency, is to press the volume rocker 4 times with the touchscreen locked to send your cries for help.
The new thing is that if any of the numbers on your SOS list should try to call you back upon receiving the message, their call will be automatically connected.
File management is good enough
The Samsung M8800 Pixon file browser is somewhat different from the one found on Samsung F480. It can display the files and folders from the phone memory or the memory card, and even both at the same time.
There are folders for different types of files - images, video, sounds, which allow the handset to sort the memory contents. However, you are not forced to follow this structure and may place you files as you wish. There will be no problems handling them.
The functionality of the file browser is one of the best we have seen among non-smartphones. You can copy or move files - both one by one or in bulk, and you can create and delete new folders (save for the root ones).
Files can also be sent via Bluetooth and email, one by one or in bulk. Throughout the whole file manager, you can pick files you would like to lock to prevent accidental deletion. Reading from the memory card is fast enough and won't bother users at all. Listing the thumbnails of pictures stored in the respective folder on the memory card now happens very quickly.