Photo Browser joins the Gallery
The Samsung M8800 has two different picture galleries. Both of them are optimized for touch operation and are rather user-friendly. The first is an inherent part of the file manager and accessing it is as simple as opening any folder that contains images.
This gallery has two view modes. In fact those are available throughout the whole file manager but opting between them is only reasonable when browsing pictures. The list view displays files as a list, with a really small thumbnail next to each filename and is able to fit 7 items on screen. The thumbnail view shows a grid of 5 x 4 thumbs with small captions under each denoting its filename. You can sort your images (or any other files for that matter) by date, type, name, and size.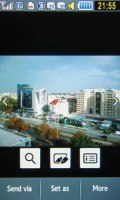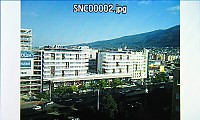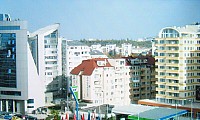 The image gallery • Zooming in on a picture
Once you open a picture to view, you can sweep you fingers across the screen to see the next images without having to return to the image list. The sweeping is relatively responsive, but the Apple iPhone and the LG Renoir have got it more fluid.
Next you can alternate portrait and landscape modes by rotating the phone thanks to the built-in accelerometer. You can also zoom in on a picture to see greater detail. Zooming is quite slow the first step but then its speed improves and panning is perfectly OK.
The alternative of the picture gallery is PhotoBrowser. It has its dedicated icon in the main menu and is the quickest way of accessing you images.
Scrolling images in the Pixon gallery follows alphabetic filtering by default. It seems pretty out of place, as all file names of photos produced by the camera start with the letter "P" - as in "Photos".
Luckily, you can opt for some other filters such as the usual "by date" or the more intriguing "by color". The Face Link option allows you to sort your images by the people appearing on the photos. To use that you have to "name" the people on the photos with the help of the gallery face-recognition feature.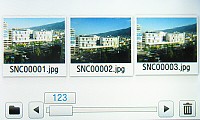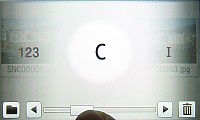 PhotoBrowser: searching by letter
Both galleries have slideshows and another nice accelerometer-based feature. It lets you browse pictures in fullscreen landscape mode by simply tilting your phone to its sides.
Touch-friendly music player
The music player of Samsung M8800 Pixon has also been improved and optimized for touch operation. It has better looks although the functionality isn't changed compared to other Samsung devices.
The music player allows filtering tracks by author, album, and genre. Automatic playlists (recently added, most played etc.) are also generated and can subsequently be used as filters. If that doesn't seem enough, you can create your own custom playlists. The music player can naturally be minimized to play in the background.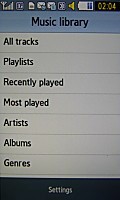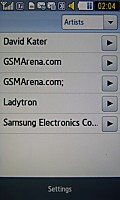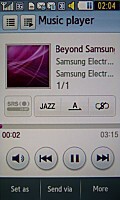 Samsung M8800 Pixon music player is easy to operate by touch
The music player widget is cool, allowing quick access to the full version of the application by a single tap only. You can also start, stop and alternate tracks straight from the home screen if you prefer. A well deserved pat on the shoulder also goes to the FM radio widget.
There are a number of sound effects available when playing a track. From surround, dynamic sound and the usual equalizers (rock, jazz etc.), it's all there with Samsung M8800 Pixon.
Finally, the Pixon allows touch-performed fast forwarding and rewinding. This adds up to a worthy music player application, which can fully replace your portable music player. The generous 200MB of internal storage and the memory card slot are also important here and the great audio quality, which we will discuss in a little while, plays a significant role.
FM radio supports RDS
Samsung M8800 Pixon features an FM radio with RDS. The RDS itself is the same advanced type we saw on Samsung F480. It displays the station name on one row and the additional information on the other. Furthermore, the Samsung M8800 Pixon radio offers intuitive controls and it even has an integrated music recognition feature much like Sony Ericsson's TrackID. We tried it once and it had no problem returning the right result for us.
Video player: higher res videos
The video player is another noteworthy application. It has nice touch optimized interface and all the essentials are covered. It can play video files in fullscreen landscape mode and you can fast-forward and rewind videos. You can also rewind or fast forward your videos.
We are really glad that, unlike the F480, Samsung Pixon has no problem playing VGA or even WVGA videos at 30 fps. Not that it's a great surprise, as the phone itself captures such videos, but it is a nice upgrade over the Tocco nonetheless.
We should also mention that the Samsung Pixon has support for XviD and DivX videos. Truth be told we got a video or two rejected due to "too high bitrate", which otherwise played just fin on the LG Renoir.
Samsung Pixon audio quality
Samsung M8800 Pixon passed our audio quality test with an ease, except in one obviously weak area. We can't overlook the disastrous stereo crosstalk reading, which is among the worst we have seen, but the rest of the numbers are excellent with good dynamic range and noise levels, and distortion well under control.
The frequency response is also on the better side of the handsets we've tested. There is some kind of low-pass filter for the lowest frequencies but we have seen far worse. Here are the results so you can see for yourselves.
| | | | | | | |
| --- | --- | --- | --- | --- | --- | --- |
| Test | Frequency response | Noise level | Dynamic range | THD | IMD + Noise | Stereo crosstalk |
| Samsung M8800 Pixon | +0.54, -1.25 | -86.4 | 85.7 | 0.0048 | 0.0165 | -38.3 |
| LG KU990 Viewty | +0.29, -2.07 | -86.8 | 83.8 | 0.020 | 0.124 | -86.6 |
| Apple iPod | +0.41, -1.16 | -91.6 | 91.8 | 0.0043 | 0.015 | -83.6 |
| O2 Cocoon | +0.27, -1.30 | -80.1 | 79.8 | 0.0089 | 0.035 | -79.6 |
| Nokia N81 | +0.39, -1.13 | -86.6 | 85.8 | 0.041 | 0.040 | -69.9 |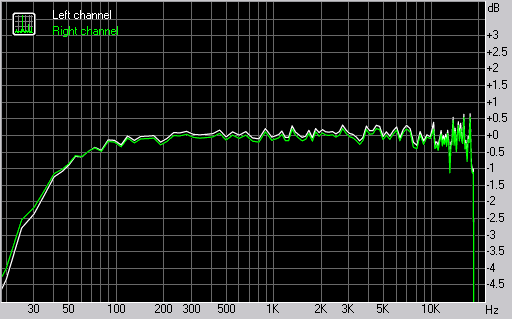 Samsung M8800 Pixon frequency response graph
You can find more information about our audio quality test here.