Connectivity: Wi-Fi, anyone?
The Samsung M8800 Pixon is a true world player as it has support for all the four GSM bands. The same doesn't hold true for 3G, where all you have is the 2100MHz band (which is still the most popular one in Europe).
By the way if you are interested where you can find UMTS 2100Mhz or you are not sure whether it's supported in your country, you should definitely check out our Worldwide Network Bands distribution database.
With Samsung M8800 Pixon you can count on 3G with HSDPA and GPRS for browsing internet on the go. EDGE is also present as a handy back-up for browsing in areas where 3G network is missing.
In addition to the network connectivity options, Samsung M8800 also offers USB and Bluetooth connectivity. Upon connecting a USB cable, three modes are available to choose from (PC Studio, Windows Media Player sync and Mass Storage). You can also opt for the handset prompting mode select on connection.
The significant connectivity feature that Samsung M8800 Pixon lacks is Wi-Fi. When F480 was released this was hardly a surprise for a non-smartphone but times have changed. LG KC910 Renoir and Sony Ericsson C905 are changing the rules and Samsung better follow. The lack of Wi-Fi might not be a deal breaker for too many people now but it may become one in half an year or so.
Web browser flies high
Samsung M8800 Pixon, much like the Samsung F480, features a great web browser, which makes web surfing a really enjoyable experience. Except for a few minor problems here and there, the browser is truly worth the praise.
The web browser renders pages greatly in both portrait and landscape modes. The browser switches between both modes seamlessly when you rotate the handset in landscape position. The available fullscreen mode makes great use of the 3.2" WQVGA display.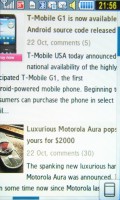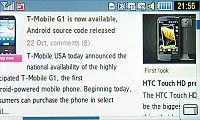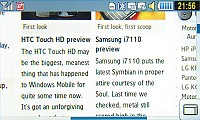 The web browser is really plesing
The other thing we really liked in the web browser is the use of the volume rocker for changing page size. The sharp performance of that feature got approving nods in the first place. Even when reduced to the smallest size most of the text remains readable and that allows you to fit much more content on screen.
Finally, you can scroll around by simply sweeping a finger across the screen. The actual scrolling action is quite smooth, similar to the Apple iPhone implementation. Pages scroll in the opposite direction of your finger-sweep, as if you are actually pushing it aside.
Great organizer
Samsung M8800 Pixon has a number of useful time-managing applications.
For starters, the calendar offers three views - daily, weekly and monthly. You can choose which calendar view should be default and you can pick the starting day of the week - the options are Monday or Sunday. However, with Samsung M8800 there is only a single type of event available in the calendar. You can set the starting date and time of the event and set an alarm to act as a reminder.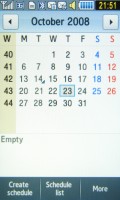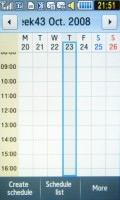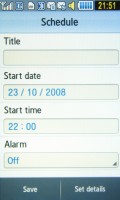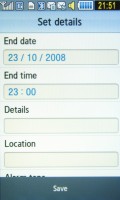 The calendar weekly and monthly view modes • Setting up an event
Alarm setting is also a great part of the Pixon interface. You can set up to 10 alarms, each with the following configurable options - snooze duration and repeat, repetition days and name. You can of course choose a custom ringtone to wake you up at a preset volume level. This feature can be quite handy if you have the habit of switching off your handset at night.
Among the other organizer offerings are a voice recorder, world time application and a unit converter. There are also to-do and memo applications for taking down tasks and notes. A countdown timer and a stopwatch will probably seem appealing to sport-minded users.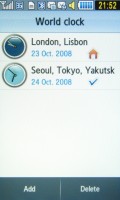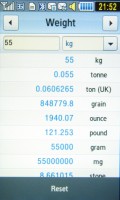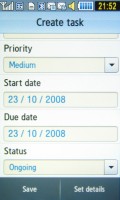 World clock • The nice unit converter • There is also a To-do manager
The calculator of Samsung M8800 Pixon is pretty nice. You have all the numbers and the most common operations on the screen. You can access some more advanced functions on another screen by pressing the fx button in the bottom left corner.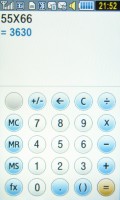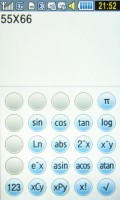 The calculator can work with a number of functions
Finally, Samsung M8800 Pixon comes with an office documents viewer that supports Word, Excel, Powerpoint and PDF files. It's an application produced by Access and is one of the nicest additions to the Pixon software package.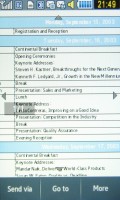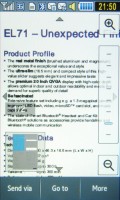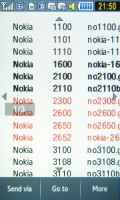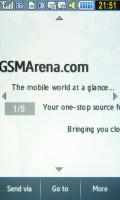 Samsung M8800 Pixon has no problems handling office documents
The documents viewer is quick enough when opening files, however zooming is somewhat clumsy. The document viewer also works in landscape mode (with automatic screen rotation), which makes reading easier with less panning.
Games… sort of
Typical recent Samsung, the M8800 Pixon only offers a bunch of trial games. Entertaining though they might be, they can only keep you busy for a short while. Full versions are available for a small fee. Since Samsung didn't bother putting really playable games in the handset, we don't see the need to get into any detail about the demos offered.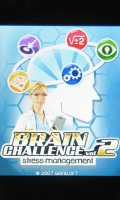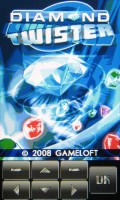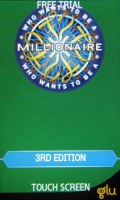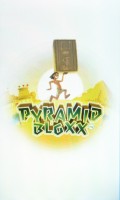 Only trial versions of the games are available
The only thing in the games section that isn't a trial is the Tumbling dice app, which uses the built-in accelerometer. Shaking the phone for an occasional roll of the dice may be a fun way of trying your luck, it also looks cool and it's free.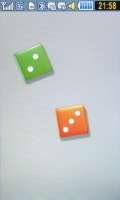 Tumbling dice is a nice acclerometer-based app
Final words
We really loved the Samsung F480 and we were more than happy to welcome its successor. Now, if you look at it that way, upgrading the Tocco is a serious task but the Pixon seems well up to it. It's true though that quad-band GSM support and accelerometer are the only non-imaging related upgrades. The rest - 8MP camera, high-res video recording, DivX/XviD playback, and TV out - leave no doubt that the Pixon is all about multimedia.
And that brings us back to how Samsung handle their cameraphone strategy. Efforts at this point are shared between an 8MP all-in-one and an 8MP touchscreen. Being humbled by the INNOV8 may seem just right for the Pixon but it's interesting to see how it handles pressure from the true - and loaded - competitors like LG Renoir and SE C905.
Anyway, the Pixon may be a couple of high-tech goodies short but what's there makes perfect sense. The nice and sharp TouchWiz UI, cool web and music, and high-end imaging sure sell.