The second 8 megapixel full touchscreen device on the market - Samsung M8800 Pixon finally saw its official announcement. After several reviews of the handset appeared yesterday, today Samsung finally held an event to publicly unveil it. We still don't have the full official specs list however, we have a pretty good idea what the Samsung Pixon is all about.
Samsung M8800 Pixon is the second 8 megapixel handset to be released by Samsung after the Samsung i8510 INNOV8. The Samsung INNOV8 is already available on some markets and the Samsung Pixon will follow soon with a release date set in early October.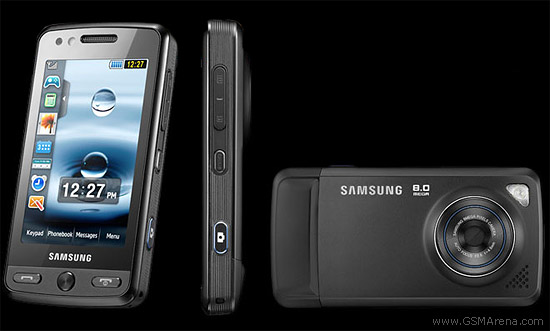 To promote the M8800 Pixon, Samsung have started a website to showcase what a professional street photographer can do with a capable cameraphone. The web site will be fully operational as of October 2nd. Check it out at www.thephotographicadventuresofnickturpin.com.
Sporting quad-band GSM support and tri-band 3G with HSDPA the Samsung Pixon is fully capable of global roaming. It stands at 107.9 x 54.6 x 13.8mm and weighs mere 109 grams. Featuring a 3.2-inch display with a resolution of 240 x 400 pixels the Samsung M8800 Pixon comes as a direct rival of LG KC910 Renoir.
Some of the other highlights of the Samsung M8800 Pixon include a GPS receiver, built-in accelerometer, FM radio with RDS and microSD memory card slot. In addition to taking exiting 8 megapixel photos its camera is capable of recording WVGA(740 x 480 pixels) videos at 30fps, which is the best that we know of among mobile phones. The Pixon will even have DivX playback and SRS (surround sound system) Virtual 5.1 Ch.
The thing that's obviously missing on the Samsung M8800 Pixon specs sheet is the Wi-Fi connectivity.
Expected to start shipping in mid-October, Samsung M8800 Pixon will retail at 550 euro (800 US dollars) a piece.
R
This phone is cool and I would recommend it to everyone. If you unlock it, it will work on 3 network too.
n
You are obviously not very intelligent....anyone with half a brain would know not to have it delivered to your own home, the phone company have your lodgers number which they will call, and lodgwer has your address, which he will give them...did you ...
?
here is hoping the police catch up with you soon which they obviously will!!
ADVERTISEMENTS