Samsung starts mass producing 12GB LPDDR5 DRAM ahead of Galaxy Note10 launch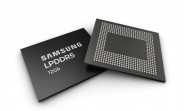 Samsung announced today it began mass production of its latest 12-gigabit LPDDR5 mobile DRAM, which is optimized for AI and 5G features in future smartphones, one of which could be the upcoming Galaxy Note10. It arrives less than six months after the 12 GB LPDDR4X entered mass production and with data rates of 5,500 Mb per second the LPDDR5 is 30% faster than its predecessor.
The new LPDDR5 memory is built on the second-generation 10-nm class process, revealed Jung-bae Lee, VP of DRAM Product & Technology at Samsung. It will support "ultra-high-definition video recording and machine learning, while greatly extending the battery life".
| | | |
| --- | --- | --- |
| Date | Capacity | Mobile DRAM |
| July 2019 | 12GB | 10nm-class 12Gb LPDDR5, 5500Mb/s |
| June 2019 | 6GB | 10nm-class 12Gb LPDDR5, 5500Mb/s |
| February 2019 | 12GB | 10nm-class 16Gb LPDDR4X, 4266Mb/s |
| April 2018 | 8GB (development) | 10nm-class 8Gb LPDDR5, 6400Mb/s |
| September 2016 | 8GB | 10nm-class 16Gb LPDDR4X, 4266Mb/s |
Samsung says the 12 Gb LPDDR5 can transfer 44 GB data in a second when the memory is made into a 12 GB package. The new chip uses up to 30% less power by integrating a new circuit design with enhanced clocking, training and low-power feature.
Depending on demand, Samsung might move the production to its second plant in Pyeongtaek, once it is built (expected to happen next year). The company is also preparing a 16 Gb LPDDR5 for a launch "to solidify its competitive edge in the global memory market".
?
> iPhone still can runs in 2 gigs of ram and 4 gigs of ram without issue and still can play PUBG with 2 gigs of ram without lags and drop frame. But it is better to have more RAM for same money :)
Oh yes and their tiny battery wil die in a single of hour after playing and takes good 4 hours to charge. No thanks. Have better things to do in llive than waiting ages untill a phone battery gets 100%.