There's a whole flock of rumors surrounding the Samsung Galaxy S6 and they don't always agree. Earlier we heard that Samsung is likely to seal the battery with a non-removable glass cover, but now info from Poland comes that the company will do quite the opposite and do a small-scale version of Project Ara with the back panels.
Samsung is reportedly trying out different ideas with the replaceable backs that extend beyond the usual Qi charging or S View case.
The most intriguing (and most unlikely) panel enables additional lenses to be attached to the Galaxy S6 camera, which is rumored to be an optically-stabilized 20MP shooter. Such aftermarket lens are available for a number of phones, but we haven't seen one straight from the manufacturer.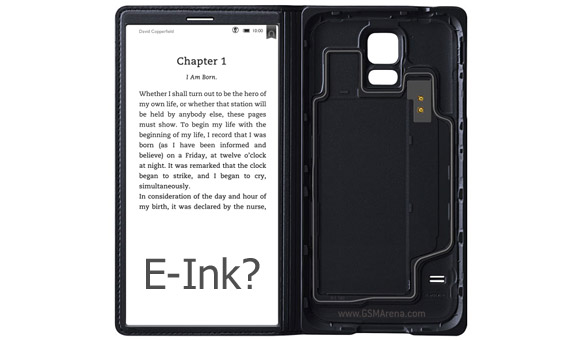 Next up is an E-ink back cover to transform the upcoming flagship into something like the YotaPhone 2. Barnes & Noble should love this idea, seeing how it borrows Samsung hardware for its Nook brand – E-ink screens are great for low-power always on screens and reading books.
Then there are covers that will enhance S-Health. One will measure your blood sugar and can upload the data to the cloud for your doctor's perusal. The Galaxy Note 4 can already measure pulse and blood oxygen level. Another case will integrate with fitness equipment and double as a bicycle computer.
All that sounds great though there aren't any leaked photos of actual hardware yet, so take that as an unconfirmed rumor.
Thanks to Lukasz for sending this in!
Source (in Polish)
D
If they are really putting in the finger print scanner similar to the Iphone, then the bezel will most likely get larger not smaller. Thats not a deal breaker for me. Once it looks and works awesome I will buy.
?
You an xiaomi fan or apple fan.. then let me comment properly...
?
Ugly you.. ugly you eyes... touchwiz is much better than miui, lg ui, sense ui and xperia ui...