Up until recently, it was suspected that Samsung would release its Galaxy Note 4 smartphone on September 3rd. However, new reports indicate that Samsung is planning to push the date back a little further to September 15th-28th.
The info comes from a Samsung product announcement memo that hints at a release between the 15th-28th. The memo also hints that the Note 4 should be released two weeks after it's unveiled.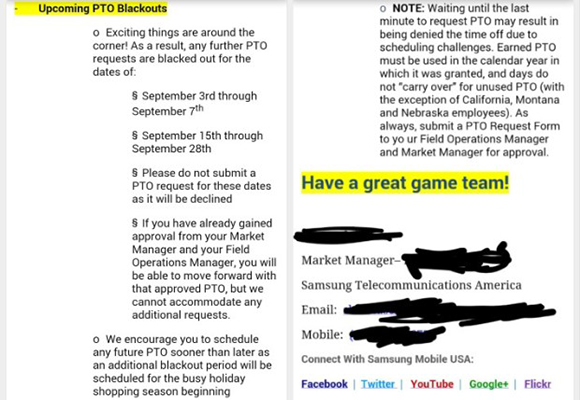 Internal reports also indicate that Samsung will have two black out periods restricting time off for its employees: Sept. 3rd-5th and Sept. 15th-28th. So it's possible that the Note 4 could be announced on September 3rd and will be hitting stores from the 15th-28th.
As with any rumor, take it with a grain of salt, however, from the intel we've received so far, it looks like the Note 4 will certainly be released in September.
S
What app do i download to enable my radio on Note 4. i want one that i can use ear piece not internet...
F
I wonder how Samsung would behave like a dick. No FM in note 4. I am always plugged into my local FM station. No radio app in Note4. Well, I am going to put my new note4 under a chinese car and crush it. Would take a video and post it on you tube.
D
Why call us names? Yes,YOUR particular Sprint Note 4 does have FM chip enabled, but AFAIK other Note 4's DON'T. My own one is SM-91OF, and I really don't know whether I'd even be able to enable it, had I rooted the phone. Oh, by the way, NextRad...