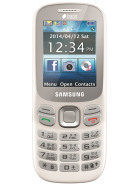 A
Best Bttery backup.....


You agree not to post any abusive, obscene, vulgar, slanderous, hateful, threatening, sexually-oriented or any other material that may
g
for those who have dis, is dis phone good for calling? does this support wallpaper?
j
this is very nice phone in basic models
it has all necessary features in this phone.
very good phone calling..
g
internet support but 'insufficient memory , connection failed' best for sms & calling , waste to internet
b
irfan, 05 Sep 2014please confirm about gprs in this phone or not? and browser support?yes bro gprs is supported in this handset But only avilable browser operamini4..
M
Just like ultra cheap Nokia devices have VOICE LEAKAGE issue as they use only 1 speaker for cost cutting,,samsungs approach is to skip mounting light around selection n navigation keys..so all devices including 310,312 etc dont have backlite navi n selection keys..only number keys have light..ppl are confusin as they think they have bought a faulty set..yet thats how it is...its not at all a fault..
s
Isnt this phone also called B312 Brio?? or Brio is somthing else..i mean a different model?
Total of 355 user reviews and opinions for Samsung Metro 312.