MWC 2014
MWC 2014: Samsung Galaxy S5, Gear 2, Gear 2 Neo, Fit hands-on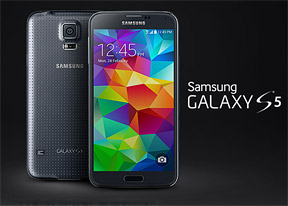 Samsung Gear Fit
In addition to the Galaxy Gear 2 duo of smartwatches, Samsung also unveiled a strictly fitness oriented wristband, called simply the Gear Fit.
The Samsung Gear Fit features a 1.84" curved Super AMOLED display with a resolution of 432 x 128 pixels. It may not sound like much, but the pixel density is quite high at 244 pixels per inch. The colors really pop, as you'd expect from a Super AMOLED display and the contrast is great. We're also happy to report that the viewing angles are also great.
One of the Gear Fit's cornerstone features is its heart rate monitor. It is mounted on the back of the wristband and after a short adjusting displays your heart rate. It works seamlessly and will be helpful for those who want to keep an eye on their vitals.
The Galaxy Fit packs a 210mAh battery, which may not sound like much, but it's capable of a maximum usage time of 7 days. With a standard usage, Samsung says the Fit's battery will manage 3-4 days, and that's not too bad.
Inside the Fit also reside an accelerometer and a gyroscope, which will undoubtedly enable developers to come up with some really nifty apps. Bluetooth 4.0 LE handles the connection with your smartphone.
Next to the heart rate monitor at the bottom of the Fit sit the pin connectors used for charging the battery.
The weight of the wristband is just 27 grams and it measures 23.4 x 57.4 x 11.95mm. It's also water- and dust-resistant as it is IP67 certified. The straps are changeable and Samsung offers a variety of others for you to choose from.
Running Tizen, the Fit can display notifications from your smartphones such as calls, emails, SMS messages and notifications from apps. It's also capable of controlling your music and can help you schedule new appointments. Additionally, it packs a timer and a stopwatch.