Check out our full Samsung Galaxy S6 review, complete with all of our proprietary tests.
Introduction
Samsung Galaxy S6 and Galaxy S6 edge are among the most important product launches for the company in quite some time. At a time of unprecedented levels of competition, the duo has the task to bring back the good times for the Korean giant.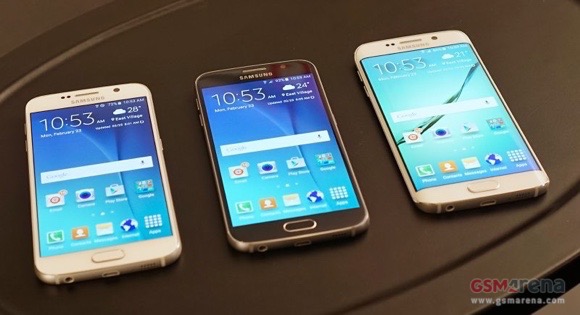 The past quarter has been difficult for Samsung's mobile division. Its market share and profits declined for the first time in years due to increased pressure from the likes of Apple, LG, HTC, Huawei, and Xiaomi among others.
Galaxy S6 and Galaxy S6 edge are Samsung's answer to the competitors and, at quick glance, the newcomers are ready for the challenge. Here is a look at their key features and specs.
Key features
64-bit Exynos 7420 chipset with 14nm architecture; octa-core CPU (quad 2.1GHz & quad 1.5GHz)
3GB of LPDDR4 RAM; 32/64/128GB of UFS 2.0 flash memory; 115GB of Microsoft OneDrive storage for 2 years
5.1" QHD (2560 x 1440 pixels) Super AMOLED display with 577ppi for both models (dual edge design for Samsung Galaxy S6 edge); 600cd/mm brightness
16MP f/1.9 camera with OIS; Auto HDR; 4K video capture; IR white balance detection
5MP f/1.9 front-facing camera
Cat. 6 LTE; WiFi: 802.11 a/b/g/n/ac (2.4/5GHz); Bluetooth 4.1; NFC; IR Remote; USB 2.0
NFC and MST mobile payment support
2,550mAh battery for Galaxy S6; 2,600mAh for the Galaxy S6
Qi (WPC) and PMA wireless charging support
Android 5.0.2 Lollipop with TouchWiz UX
Metal chassis; Corning Gorilla Glass 4 front and back
Developed under the codename Project Zero, Samsung Galaxy S6 and Galaxy S6 edge are a massive leap forward for the popular flagship smartphone family. As usual, the devices are brimming with high-end tech but this time around they have a mature enough design language to complement them.
The brand new 14nm Exynos chipset with 64-bit architecture could well be the most powerful in its class at the moment. Samsung has paired it with the fastest flash memory available at the moment.
As expected from a new Samsung Galaxy S smartphone, an upgraded 16MP camera with OIS and Super AMOLED displays with eye-popping pixel density are also on board. Both Galaxy S6 components are the best Samsung has utilized to date.
The looks of the two new Galaxy flagships are certainly an improvement Samsung's previous efforts. With glass front and back encased in metal, the ultra-thin Galaxy S6 and Galaxy S6 edge look as premium as it gets.
Samsung has also streamlined the TouchWiz UX which runs on top of Android 5.0.2 in a bid to reduce the overwhelming amount of settings from past iterations. At a quick glance, the latest custom UI from the company is a great match for the Material Design of Google's latest Android iteration.
Samsung has skipped the removable battery and the microSD card slot for the first time in the lineup's history. The features have been replaced with ample built-in storage options and wireless charging support out of the box.
Following next is a closer look at Samsung Galaxy S6 and Galaxy S6 edge.
s
hii guys, i am hoping to buy a GS6 or GS6 EDGE soon, but i am confused which one to buy. I like the EDGE look not the feel.Its a new tech and i wish to have it, but it felt more comfortable using the GS6 than the edge version and it feels little di...
T
If you really are a seller then you know nothing about selling, prices and how to upsell or cross-sell. Overpriced? Maybe, for 1 or 2 months then the price will drop like rain. ask your manager what are these 2 first months for and the why for the ov...
i
Overhyped.. edge is a minus to me.. only samsung want's this.. overprized.. same shit like apple does.. because costumers are stupid sheeps.. and i'm 100% sure there will be the camera reddot problem in some conditions.. greetz, a mobile seller