Samsung Netherlands: First-gen Galaxy Tab S won't be getting Marshmallow update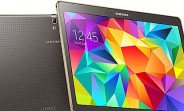 Around a month after there were reports that the original Galaxy Tab S will start receiving the Marshmallow update sometime in Q3 this year, Samsung has revealed that the device in fact won't be getting the update.
The revelation was made by the Netherlands subsidiary of the South Korean company in response to a user query on its Facebook page.
It isn't yet known exactly why Samsung decided not to roll out the update to the tablet- the device isn't even two years old yet. In case you missed, the 10.5-inch variant of the tablet running Android version 6.0.1 was spotted on a benchmarking website last month.
D
This ROMs that I cited with S-Pen fully working are built on top of stock firmware or are ports of stock firmware from newer Samsung phones/tablets, you can go check at XDA yourself.
?
Well, they updated the note 3 neo to 5.1.1 but ignored the flagship version. Sammy must've gotten too big for their own good.
?
All functions of Spen? Well see about that.