Samsung Netherlands has begun accepting pre-orders for the Galaxy S6 and Galaxy S6 edge, which revealed the official price in mainland Europe. Both versions will ship on April 10.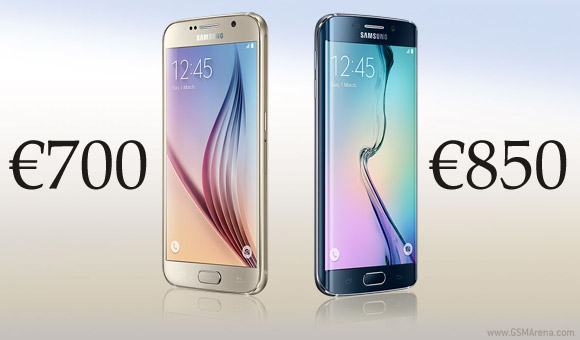 The flat-screened Galaxy S6, the 32GB model, is priced at €700. That's the same price that the Galaxy S5 (16GB) launched at last year. That was also the starting price of the Galaxy Note 4 late last year.
The Samsung Galaxy S6 edge commands a hefty premium for its three-sided display. The 32GB version is €850, that's €150 over the regular S6 model. The Galaxy Note Edge carried an even bigger premium initially, so we'll see how the price difference evolves.
For comparison, a Dutch retailer has the HTC One M9 listed at €750. Samsung's UK shop just says "Coming soon" for both S6 versions now, but earlier it let it slip that the Galaxy S6 will go for £700.
Note that there's no microSD slot this time so you might want to consider going for a bigger storage option. Those aren't available yet, but there should be 64GB and 128GB versions of the Galaxy S6.
Finnish site Expert does have a price for the additional storage options of both. The Galaxy S6 64GB goes for €830, while the 128GB model is €950. Things get even pricier for the Galaxy S6 edge - €1000 buys you a 64GB model, and €1100 gets you the top 128GB model.
So, the jump in price per each storage increase varies between €100 and €150. The lack of a card slot is definitely felt, considering a 128GB microSD is around €90 right now. Ouch.
Update, March 3: Dutch site Typhone also carries the S6 duo and the storage upgrades are a bit cheaper. The Galaxy S6 64GB/128GB goes for €800/€900, while the Galaxy S6 edge 64GB/128GB is €950/€1050. A bit better, but still pricey compared to microSD cards. Thanks for the link, Hans!
Thanks to Michel and Kushal tipping us off!
Via (in Dutch)
D
I usually don't like Samsung's flagships, but I will probably get the S6. On the main two points it's been criticized: - non-removable battery - you can get pretty sweet portable chargers, which combined with the fast charge option must be suffici...
u
coherence? u mean high prices for stupid, obsolete hardware?. . .
ADVERTISEMENTS