Samsung Notebook 7 Spin is a 2-in-1 convertible laptop starting at $799.99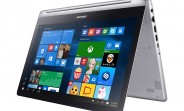 Samsung's latest Windows 10 laptop is of the 2-in-1, or convertible type - its display rotates all the way, letting you use it in normal laptop mode, or put it in 'tent' mode to watch movies, or you can spin it all the way to enjoy tablet mode.
The device comes in two sizes, one with a 13.3-inch screen, the other with a 15.6-inch display. Regardless of which you pick, you'll get 1080p Full HD resolution with "Video HDR mode" that supposedly makes content sharper, colors more vivid, and textures should "truly pop". In both cases, you can configure it with an Intel Core i5 or Core i7 processor, a 1TB hard drive, up to 12GB of RAM, and upgradeable SSD options.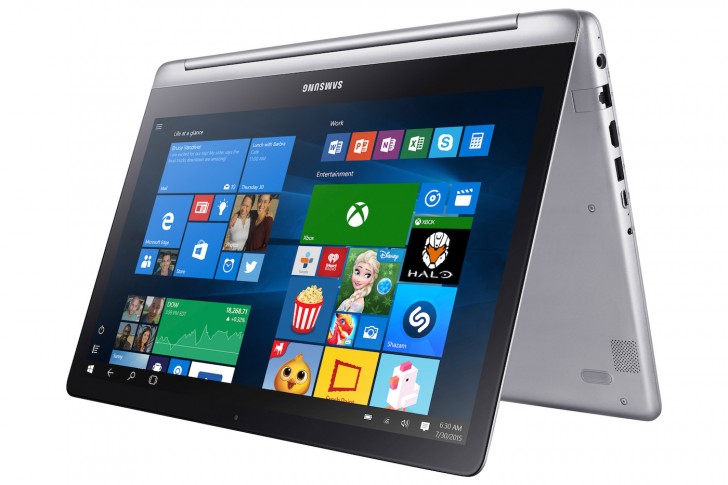 You get a backlit keyboard, an HDMI port, a USB Type-C port, and three 'normal' USB Type-A ports, of which one supports USB 3.0. The bigger model has Ethernet too. A key feature Samsung is boasting about is fast charging. You can apparently get two hours of use out of just 20 minutes of topping up. The 13.3-inch Notebook 7 Spin goes from 0 to full in 100 minutes, while the 15.6-inch model does the same in just 90 minutes.
The Samsung Notebook 7 Spin will become available on June 26 at Best Buy and Samsung.com, priced from $799.99.
D
Probably not. They are focused on their premium android phones. A Samsung Windows Phone would probably take a loss too, would be a niche product.
D
It should be able to run a linux distro. You would probably have to do some configuration for the touchscreen but I would imagine everything else to work fine out of the box.