Samsung offers a timeline of all its camera innovations in mobile phones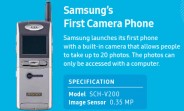 Today, Samsung released a timeline offering a view of the past 18 years and the progress that it has made with its camera phones. Check the infographic at the very bottom of this post.
The South Korean phone maker's first camera phone was released back in the year 2000 (SCH-V200) and allowed you to store up to 20 photos and you needed a computer to actually see the 0.11 MP photos.
A couple of years later, Samsung released a flip phone with a camera that was embedded right into the screen's hinge (SCH-X590). This allowed the camera to be rotated freely between the front and the back, introducing Samsung's first phone that could take selfies.
Just the next year, Samsung introduced a flip phone whose display could be turned to a landscape orientation (SCH–V420). We have to say we miss when phones were this innovative in hardware.
Finally, in 2010, Samsung's first Galaxy S smartphone was Samsung's first phone to feature a wide array of photo modes: Panorama, Stop Motion, and Cartoon Shot. The touchscreen was a huge innovation for smartphone cameras since they changed the way we interact with smartphone cameras.
Samsung brought burst-shooting with the Galaxy S III. It could shoot up to 20 photos with its 8MP sensor. Soon after came the Samsung Galaxy S4 Zoom. It had a 16MP sensor with 10 optical zoom (no hybrid zoom here) on its 24-240 mm lens. The Galaxy Camera came too and had two Wi-Fi only iterations.
The Galaxy S5 bought Samsung's fastest autofocus at 0.3 seconds with real-time HDR. Then, the Galaxy S7 brought dual-pixel autofocusing which drastically changed the accuracy and speed of autofocus while taking photos and videos. It was also one of the best low-light smartphones of 2016.
The Galaxy Note8 was the first Samsung flagship to have a dual-camera system. With it, it brought new shooting modes like Live Focus, hybrid zoom, and improved low-light performance.
And finally, likely the main reasons why Samsung released this timeline, is to promote the Galaxy S9 which brings a variable-aperture camera system to smartphones. It can switch between a brighter f/1.5 aperture and a slower f/2.4 aperture. This, and Samsung introduced 960 fps slow-motion capturing.

D
Alienating. Samsung abandoned its camera business back in 2015, with their last high-end camera/smartphone hybrid being the Galaxy K Zoom (2014, 20MP, xenon + LED). In cameraphone history, the only innovation work taking note in the last 3 years...
D
I believe this is just a promotional timeline for S9 and S9+. Many of the original trendsetters like Pixon12 and Samsung INNOV8 are missing. The ones with optical zoom are missing too.
This is exactly my point. Which means the one who prepared this infographic is not a tech guy/gal and has no idea about the brand's past and present innovations.