The Samsung I8000 Omnia II has just been updated with HTC Sense UI by a hacked firmware. We also spotted the first shots of a ceramic white version of this uber-phone, so HTC HD2 might just have lost an edge here.
Truth be told, we knew this will happen sooner or later, but now was probably the best time (or worst, depending on which side of the barrier you are), with the Christmas shopping spree peak coming up.
From the Twitter client to the Footprints app - you can get it all on your Omnia II, thanks to a helpful hacker from ModaCo forums. And the Italian HDblog has just uploaded a live video of the home-backed ROM in action.
We've got some more good news for the potential Samsung I8000 Omnia II owners. If the black styling wasn't much to your liking you know have a second option available. The Ceramic White version of the Omnia II will be more appealing to a lot of people, helping the Omnia II reach a wider audience.
So far there's nothing official, but those Samsung I8000 Omnia II live shots we found over at PDAMobiz seem pretty legit. You gotta give it to them, that Ceramic White version is quite a looker.





Samsung I8000 Omnia II live shots
South Koreans have been enjoying pink and white versions of Omnia 2 ever since August, but it's only now that we see a GSM version of Omnia II get snow white. Perhaps it's something about this season?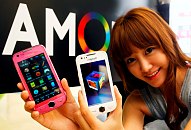 South Korea already has the Samsung Omnia II dressed in White and Pink, but that's the CDMA double
G
this phone is the biggest piece of shit ever I HATE IT, if i could punch the screen every time it lagged it would be in pieces by now. i have the omnia 2 and bought it off a friend, and am completely regretting it and going back to my ancient gravity...
A
The sense UI is somebody job, not from Samsung, it is lagging because Samsung not official support OpenGL ES 1.0 which still use by HTC. IF sense UI is done unider OpenGL ES 2.0, I believe it will work like a charm.
ADVERTISEMENTS