Samsung revealed a reloaded version of the i900 Omnia, which comes in purple to complement the already existing black and white versions. New security and social applications plus new home screen widgets are among the new stuff, which quite surprisingly include a TV-out cable that's not included with the previous retail versions.
The WinMo-powered Samsung Omnia received a slight update today. The Omnia Reloaded comes in a new purple color (but will be offered in the familiar black and white versions as well).
The specs of the smartphone remain untouched - 3.2-inch WQVGA touch display, 5 megapixel camera with LED flash, Wi-Fi, HSDPA and GPS support. The internal storage also stays the same - 8 and 16-gig versions.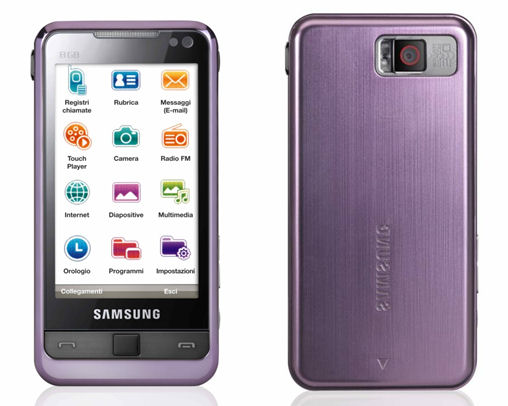 The new Omnia however sports several new home screen widgets as well as the SecureRed application (used to perform remote access and remote wipe on the device in case it's stolen).
The increasing social networking mania left its print on the Omnia too - mySpace, Facebook and Flickr clients are integrated on board.
If that's not enough for you, then SpaceMe, ExploreMe and PlaceMe come on help. These three new services enable geo-referencing between your friends from the social networks and help share your common points of interest (POIs).
The retail package of the reloaded Samsung Omnia is now expanded with a TV-out cable that was not available in the original pack.
The new Omnia will hit the shelves in Italy (the first European country where it was made available) as early as this month at a price of 469 euro (or 600 US dollars). There is no info about its availability in other countries.
e
i got the phone six months ago. its the worst phone i have had. it claims to do a lot of things, but just isnt stable enough. its sitting in my drawer now rotting away. i bought the G1 for which i am having a lot of fun writing my own apps. sam...
?
the phone is 6 months old.. all phones "devalue" like that numpty
C
the price is $600.00, it is expensive,SUMSUNG is not popular in Cambodia. NOKIA is widely populoar in Cambodia
ADVERTISEMENTS