By the playbook
Samsung I8350 Omnia W review: By the playbook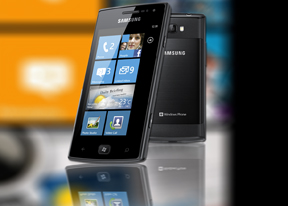 Connectivity is a bit close-minded
The SamsungOmnia W has quad-band GSM/GPRS/EDGE support and dual-band 3G with HSPA (14.4Mbps downlink and 5.76Mbps uplink).
The local connectivity is covered by Wi-Fi b/g/n with DLNA and stereo Bluetooth 2.1. Bluetooth is currently limited as to what it can do – there's no file transfer support, for one.
Syncing with a computer is done with the Zune computer application. It's the only way to transfer files directly between your computer and your Windows Phone – there's no Mass storage mode.
You can sync files with Zune over the USB cable and Wi-Fi. There's a Mac version of it available too - Windows Phone 7 Connector.
Additional SD storage isn't available on Windows Phone so the Omnia W doesn't offer such an option.
Another syncing option is the cloud. SkyDrive is a free Microsoft service that gives you 25GB of cloud storage. You can even have your photos automatically uploaded as soon as you snap them.
Mango brings Wi-Fi hotspot functionality too. All you need is an active SIM card with a data connection and you're all set.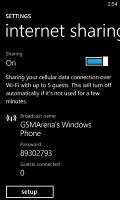 Wi-Fi hotspot is at your disposal
Internet Explorer mobile does without Flash
Internet Explorer mobile is the go-to app for browsing the internet. It offers a pretty straight forward interface with the only visible aspect of it being the URL bar at the bottom fitted with a refresh button on the left.Swiping the bar upward reveals shortcuts for tabs, recent, favorites, add to favorites, share page, pin to start and settings. The settings menu offers the usual options like location, allow cookies, delete browsing history but it does offer a very neat option to choose a global preference for mobile or desktop site versions.
The URL bar also serves as a search bar, which is a handy shortcut for looking things up if you're not sure which site exactly will do the job.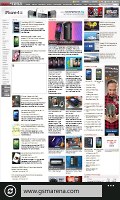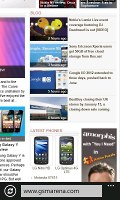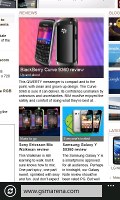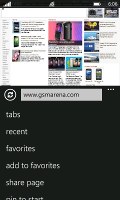 Internet explorer mobile • IE mobile settings
The browser makes the controls in web pages look just like their equivalents in native apps. So, a web app can look just like a native app with practically no extra effort from the designer.
What we miss is text reflow (the automatic alignment of text into the screen) and the ability to open more than six tabs at a time. But performance is top notch - the browser relies on hardware graphics acceleration to provide smoother graphics (and video) and animation and uses the latest (and fastest) JavaScript engine too.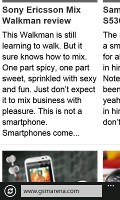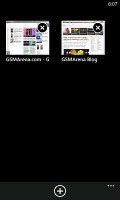 In-browser options • Pin page to homescreen
Microsoft are so confident that they've set up a page specifically for testing the performance of your phone - both JavaScript and graphics. You can find the page here.
Bing search on Windows Phone
When you search on Bing, one of the things that might be offered as a relevant result is an app from the Marketplace. For example, searching for "travel" will offer a travel tool app. This feature is called App connect.
Bing also offers song and barcode search natively. Sure there are apps for that on WP but it's neat to have it built right into the OS.
The camera scanner can also snap a photo of text, perform OCR and translate it into another language.
Marketplace is where you shop for apps
Currently the Windows Phone Marketplace offers over 45 thousand apps, which is enough to call a significant collection. Most household names like Angry Birds, Facebook and the likes are on WP7 so you don't have reason to worry.
The Marketplace is organized into four main sections – applications, games and music. A fifth section called Updates shows up when one of your installed apps has received an update – there's an Update all button, which will save you the hassle of updating each app individually.
Anyway, each app will be listed with a short description, a rating and user reviews, and a few screenshots. If the app can use something that can potentially breach your privacy (e.g. location information) the Marketplace will let you know.
It's not as comprehensive as the Android Market (which lists just about everything the app can use) but on the upside it only warns you about the important things.
Big downloads (anything north of 40MB) need a Wi-Fi connection to work. Alternatively, you can download those jumbo apps using the desktop Zune software.
The Application section starts with a featured app, then it's on to the categories (including all and free), followed by the top apps, a list of new ones and a longer list of featured apps.
Under Categories you'll also find the Samsung Zone, which offers some exclusive content for Samsung Windows Phone devices.
The Games section is divided into Xbox Live, New, Featured and Genres, which is the categories version. A great thing about games in the Windows Phone Marketplace is the try option, which is available to many games and apps. It gives you a trial of a game before you decide to buy it.
The new and featured sections act as a what's new/hot reference.
The top and featured apps provides users with the top grossing games currently in the Marketplace.
The Music section is actually the Zune Marketplace. Its structure is similar to the Application section. First, a featured artist of the week, three more featured artists, then a list of new releases, top albums and genres.
Genres themselves are separated into sections too – new releases and top artists/albums/songs/playlists. For each song, you get a 30 second preview (same as iTunes). If you have a Zune pass, you can stream the entire song, just like you would on a Zune player (it's 10 US dollars a month).
The Marketplace on Windows Phone can be accessed via your WP device, the Zune software on your PC and the windowsphone.com website.
Search is available for the Marketplace but right now it pulls together search results from all sections – games and apps alike. Microsoft have fixed the issue where songs would get mixed up in the search too, which was annoying.