By the playbook
Samsung I8350 Omnia W review: By the playbook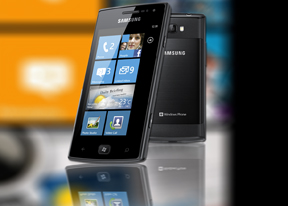 Xbox LIVE gaming
Xbox Live is at the heart of the Games hub. It carries over many features from the Xbox – from your avatar to your scores and achievements. The Spotlight feature is available too (it shows info on new stuff) and also Requests – which shows you game invites from your friends.
Anyway, the games themselves are housed in the Collection section. Nothing much to see here, the installed games are arranged in a square grid and there's a Get more games shortcut, which launches the Marketplace.
Not all games support Xbox Live – the ones that do are in the corresponding section in the Marketplace. We did test games like Need for Speed, Kinectimals, Angry birds and had no problems with the Omnia W, the 1.4GHz processor and Adreno 205 GPU were more than adequate in handling more complex graphics.
Bing Maps at the wheel
The basic mapping solution in Windows Phone is Bing Maps. They offer driving (and pedestrian) navigation for free in certain parts of the world but will inevitable take a hit once Nokia Drive gets really going as it offers free voice-guided navigation almost anywhere.
As for Bing Maps's voice-guided navigation - here's how it works: first you set up a route and listen to the first instruction, then when it's time for the next instruction, the phone will beep and highlight it. If you tap it, the phone will read it out to you, but only then.
The Maps app uses a big font with white letters on black background that make reading easy. It still requires you to take your eyes off the road though, it won't put SatNav apps out of business.
Real-time traffic information is also available.
That's not all the new Maps can do for you though. The app will locate nearby points of interest with the new feature called Local Scout and it will even show you indoor maps of malls.
Local Scout has a tabbed interface to sort the various points of interest - eat+drink, see+do, shop and highlights. You can pick items from a "I care about" list to get the relevant options only.
You can browse businesses, read people's review and find directions and contact information.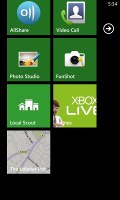 Pin a location to the homescreen
Full-featured Office
Office is one of the key selling points of Windows Phone. Document viewing and editing is absolutely free and integrated into the OS.
SkyDrive automatically syncs between the phone and your computer. In case you missed it, Microsoft are offering free 25GB of storage with each SkyDrive account (but individual files are limited to 100MB).
The Locations tab lets you browse Office docs stored on the phone, in SkyDrive, through SharePoint or in Office 365 (a paid service that includes Office web apps).
The Office hub breaks down into three sections – Documents, Locations and Notes.
Anyway, let's look at the two most important apps – Word and Excel. They share the Documents panel, which lists all available documents of the relevant types (in order of last used). Both viewing and editing of files is supported.
The Excel section of the Office hub offers Auto-sum function and you can now tap and drag to select multiple cells.
Editing is pretty straightforward and easy to use even on a mobile device. You type in the text and you can use the Format key to change the formatting of the selected text. You can also insert comments.
Formatting options include the standard bold, italic and underline, as well as text size, highlighting and font color. For highlighting and font colors you have only three colors to choose from, which is a little limiting but should be enough for most cases.
Collaboration for both Word and Excel files is enabled with SharePoint. It allows syncing, sharing and web publishing but you'd need to use the right SharePoint server. You can attach those files to emails, though you need to do that from the Office hub. You can't do it from the email editor, which caused a little confusion at first.
PowerPoint files will thrive in the Documents section too – but they are for viewing only, you can't edit them or create new ones.
OneNote is Microsoft's collaborative note taking tool. It has great (and easy to use) support for lists of multiple levels, you can add photos and voice memos and you can send notes via email when you're done. OneNotes can be synced with your SkyDrive or Windows Live account so that they are accessible from everywhere. Pin-to-homescreen is available too and so is the To-Do feature that turns the selected line into a to-do item that can be checked off.
Anyway, the apps support pinch zooming and work very well for viewing even complex documents. But Microsoft's fondness for simplicity may have over-simplified the editors. Still the innovation that Mango has brought to Windows Phone Office is great and shows Microsoft is dedicated to improving the Office experience further.