Battle of the affordable Windows Phones
Nokia Lumia 710 vs. Samsung I8350 Omnia W: Battle of the affordable Windows Phones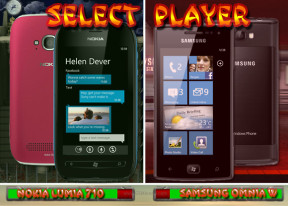 This sure looks like a non-starter. Comparing Windows Phone handsets is about as constructive as deciding which is right and which is left in a pair of socks. HTC and, to a lesser extent, Samsung have been making sure though there's no shortage of phones to choose from. And now with Nokia pulling their socks up to stay in the smartphone game, the choice is even greater.
Today our focus is on the Samsung I8350 Omnia W and the Nokia Lumia 710. For a change, they step out of the shadow of their bigger, more capable siblings. In fact, the entire Windows Phone range finds itself struggling to catch up with the general trend towards higher screen resolution and multiple-core processing. The first WP7generation was thrown in the deep end while the fresh Mango-running crowd has a seemingly easier task of staying afloat in the midrange.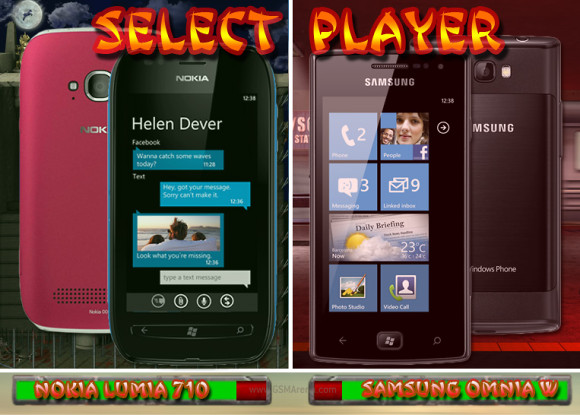 Phones like the Omnia W and Lumia 710 are likely to be considered even by first-time smartphone users and that's one of the reasons why we think this comparison may be helpful. The two handsets are almost on par pricewise and the same goes for most of the specs too. We have a 3.7" display each and it's tie in imaging too: 5 MP still cameras with 720p video. Both have the same processors and run the most recent version of Windows Phone 7.5 - Mango.
But here's where it gets interesting.
Samsung Omnia W over Nokia Lumia 710:
Super AMOLED Gorilla Glass display over TFT
Slimmer profile and metal on the battery cover
Lighter by 10g despite more premium finish
Front-facing VGA camera
Slightly better loudspeaker performance
Better audio quality
Nearly twice the real-world battery performance
Standard SIM card support over MicroSIM
Nokia Lumia 710 over Samsung Omnia W:
Free lifetime Nokia Drive navigation
Nokia Music and Nokia Maps
Display is twice as bright
Better video recording quality
Exchangeable covers
A wee bit cheaper
Much of it will come down to personal taste, but there's enough to tip the scales either way. The Super AMOLED screen is a massive point in Omnia W's favor, but the Lumia is keen to raise the bid with Nokia Drive - the company's free voice-guided navigation system.





The Lumia 710 and Omnia W at ours
We'll get busy exploring the major aspects of the performance of these phones by pitting them against each other in various tests: still cameras, video recording, audio quality and battery backup. As usual though, we start off with the build and finish.
s
I hate this Nokia lumia 710 . In this Mobile I can't able to change my windows live id and Bluetooth is not connected to other mobile so that I hate Nokia lumia 710 .
A
Nokia lumia is bettre than samsung omnia Nokia has better display Its microsoft office better nokia lumia is very good.i am also using this mobile