Today, Samsung outlines new features of the "Value Pack" update that has been rolling out to the Gear S3 and S2, which kicked off last week. The update focuses a lot on fitness and reminders.
The Samsung Health UI has been updated from the watch and includes new workout features. Specifically, in the workout results window, you'll see visual information (charts and graphs) about the amount of time spent in certain heart-rate zones. In addition, a new stretch guide is added showing how you should stretch when inactive for longer than 30 minutes.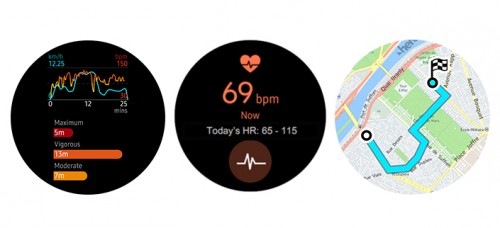 Samsung Health will also automatically record approximate location that corresponds with the duration of an automatically detected activity.
The Reminder app has been updated with S Voice to let you set reminders with specific dates. Example: "Remind me to go for a run on Sunday at 1PM."
New accessibility options include viewing modes like "Dark screen", "Grey scale", and "Negative colors".

Find my Gear has been updated to let you remotely lock a misplaced Gear S3. You can send contact information remotely to the screen of your Gear device. We assume this would only work on connected versions of the Gear S3.

The Altimeter/Barometer gets a new simplified menu and an automatic calibration setting. Other miscellaneous updates include a new way to navigate the News Briefing screen by swiping up or down, Stopwatch limit has been increased from one hour to three hours. Additionally, some of the new watch faces have integrated music controls.
If you haven't gotten the update already, Samsung the update should be hitting global markets soon, otherwise, the only way to grab the update will be while the smartwatch is connected to a smartphone.
There's no reason why Google shouldn't be able to create such a compelling wearable experience like Samsung and Apple have done. Get it together, Google.