Samsung's Level line of headphones keeps on growing. The latest member to join the family is the Level On Wireless Pro. This headset is wireless, as its name clearly states, but Samsung is also stressing its design and its sound quality.
Design-wise, you can see for yourself what the new headphones look like. They come in gold, by the way, presumably in order to be a better fit for your gold phone. If you're not into that, rest assured that there's a black version too.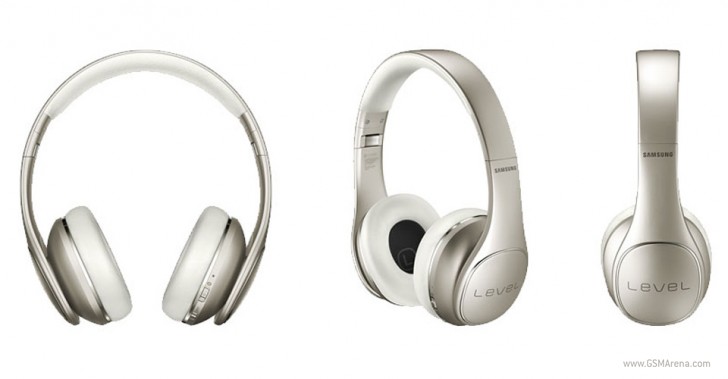 Samsung says these employ something called "Ultra High Quality Audio (UHQA)" which features "sound quality higher than that of a CD", making for "an almost live" listening experience. The 40mm dual layered diaphragm should provide a balanced sound. Active noise cancellation is in too, with four mics making sure your listening is free of outside noise. On the other hand, "Talk-in Mode" lets you hear music and ambient sound at the same time - something rather useful when you're walking or running alone, for example.
Bluetooth 4.1 is built-in and pairing can be done via NFC. In addition to UHQA, the Level On Wireless Pro also supports aptX. If you so choose, you can connect the set to your phone with a 3.5mm jack too.
The battery inside should last for up to 10 hours of playback time with noise cancelling turned on, and 20 hours with it off. Standby time is rated at 200 hours. The headphones weigh 236g.
q
Anyone know how to get these? I've ordered these Level On Pros over a month ago and they are still on back-order. The fulfillment center keeps on sending me email that pushing the date back. I was hoping to get these by Christmas, but that does...
m
Hohoho.. that will be an expensive overprice laggy bloated headphone which will be abandoned after 2 years.
D
You're right, Beats suck more than any pair of headphones out there but Apple did not make them, Apple just bought them and is trying to sell them all off. I am sure the Apple team will go back to the drawing board and make new ones.