Samsung outs Galaxy S8's unique selling points through registration page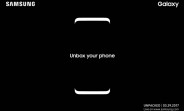 Samsung's Galaxy S8 is leaking left and right these days, and now it looks like the company itself wants to get involved in the game too. While it hasn't outright leaked something about the S8, Samsung's website for the Philippines does imply what the phone's unique selling points will be - and probably what most of the company's marketing dollars will be spent highlighting.
If you want to register your interest for "the next Galaxy" at Samsung Philippines, you're met with the usual fields in which to enter your name, email, and phone number, but then there's also this: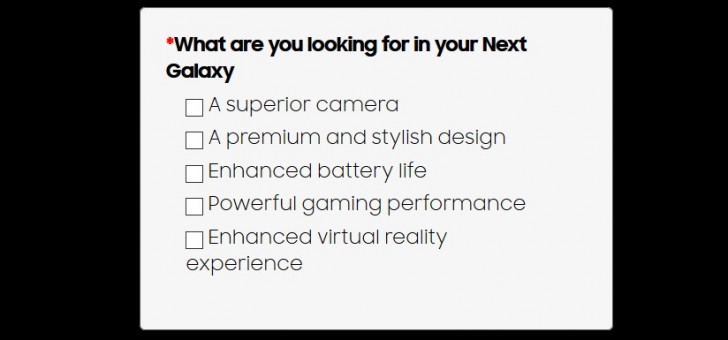 Sure, Samsung isn't saying that these will all be standout features for the S8, but come on - it's pretty obvious that that's exactly what they are. Interestingly, the much-leaked Bixby virtual assistant is missing from the list. Then again, a mention of that would probably have made this much too obvious. So while we can't be 100% certain that the Galaxy S8 will be touted as having "a superior camera", "a premium and stylish design", "enhanced battery life", "powerful gaming performance", or an "enhanced virtual reality experience", we assume that you're going to see all of these bullet points in the advertising campaign for the handset.
It's interesting to see "enhanced battery life" in there, by the way, since the leaks so far have all pretty much agreed that the battery capacity will remain unchanged from the S7, while the screen size is growing by 0.7" diagonally. If there will be no penalty in battery life, then that has to be thanks to the more efficient chipsets employed in the S8 (Qualcomm's Snapdragon 835 and Samsung's own Exynos 8895, both manufactured using a 10nm process), as well as (possibly) a battery sipping AMOLED display.
Also intriguing is the "superior camera" mention since we're expecting it to be a unit mostly identical to the 12 MP shooter in the S8's predecessor, but perhaps Samsung's got something up its sleeve here that hasn't leaked yet.
?
That phone you're reffering to (The Lumia 1020) was not reasonably slim. It was around 15mm at it's thickest. But it's shape and build quality made it easier to hold and grip. If the S8 will have that kind of sensor, the bump will be so big, they jus...
S
Better than non (pixel iphone huawei htc all have big bezel, only huawei htc justify with leica setup and htc boom sound) sony front facer and rear cam is big
D
Im not out of my mind there is a saying "you never know what your missing until it arrives" the s7 has great battery life vs other flagships but compared to mid rangers and low end the s7 and its tiny 3 thousand plus mah is a joke