An expanding universe
Samsung P1000 Galaxy Tab review: An expanding universe

Introduction
Not so long ago the tablet was a futureless species, stuck in an evolutionary dead-end. The technology and the the operating systems didn't offer the right balance of portability and usability to suit its needs. But just look at it now...
It was the Apple iPad that made the first splash and many other tablets are on their way on following its steps. We guess Samsung's had an easier job than Apple bringing it to market. They already had the Samsung Galaxy S in the works and just had to make it bigger. Plus, they didn't need to go to great lengths explaining what a tablet is and what it does.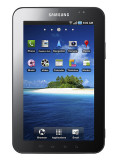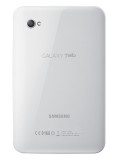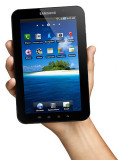 Official photos of the Samsung P1000 Galaxy Tab
If nothing else, the Galaxy Tab makes the S in Galaxy S meaningful. But the Tab itself is not size XL. In a nutshell, the new Samsung tablet is a Galaxy S with 3 inches added to the screen and 2 megapixels taken away from the camera. The Tab is equipped with the same 1GHz Hummingbird processor and PowerVR SGX540 graphics accelerator, 512MB RAM, a complete connectivity set and 16GB internal storage. The whole thing's running on Android's latest – v2.2 Froyo.
Key features
190.09 x 120.45 x 11.98mm, 380g
Quad-band GSM and tri-band 3G support, 7.2 Mbps HSDPA and 5.76 Mbps HSUPA support
Full GSM phone calling functionality
7" 16M-color TFT LCD capacitive touchscreen of WSVGA (600 x 1024) pixel resolution, Gorilla Glass
Android OS v2.2 with TouchWiz 3.0 UI customization
1GHz Cortex A8 Hummingbird CPU
PowerVR SGX540 graphics accelerator
512 MB of RAM
3.2 MP autofocus camera with smile detection and geo-tagging
D1 (720 x 480 pixels) video recording at 30fps
Wi-Fi 802.11b/g/n support
GPS with A-GPS connectivity; Digital compass
16GB internal storage, microSD slot
DivX and XviD video codec support, Full HD video playback
HD video out (with a proprietary dock)
Accelerometer, ambient-light and gyro sensor
Standard 3.5 mm audio jack
30-pin connector and stereo Bluetooth v3.0
Office document editor
Secondary video-call camera
Swype predictive text input
Adobe Flash Player 10.1 support
Stereo speakers
4000 mAh Li-Ion battery
Great audio quality
Main disadvantages
Poor viewing angles
Picture ghosting due to slow LCD response
Some apps incompatible with the new resolution
Gallery displays downsized images only
Quiet loudspeaker
No FM radio
No USB host support
That's a long list of features but the full phone functionality is perhaps what sets it apart from the arch-enemy. Soon enough however, the Galaxy Tab will have other things to worry about than a certain Apple slate. With the likes of Dell Streak and even RIM's PlayBook around, the Samsung tablet will be trying harder to convince users it's the perfect fit between a phone and a laptop.




Samsung P1000 Galaxy Tab live shots
When Samsung unveiled the Galaxy Tab they stated that its purpose was not to rival the iPad but to bring something different to the tablet market. This might have just been a face saving statement but it's obvious the iPad and the Galaxy Tab are each aimed at quite different types of users.
Samsung Galaxy P1000 Tab over Apple iPad
Lighter and smaller, easier on the pocket
Telephony (including 3G video calls)
3.2 MP camera with D1 video recording @ 30 fps and LED flash
Android OS v2.2 Froyo
Proper multitasking (though the iPad is getting that too in a couple of months)
microSD card slot for memory expansion
Uses regular size SIM card
16:9 widescreen display
Adobe Flash player 10.1
DivX/XviD 1080p video playback
Bluetooth 3.0
Apple iPad over Samsung P1000 Galaxy Tab
Larger and better screen
Metal body
iOS 3.1.3 with more than 25 000 apps tailor-made for it
Larger internal storage (iPad 64GB)
Better battery life
YouTube app streams higher-quality footage




The Samsung P1000 Galaxy Tab compared with the iPhone 4 and the Apple iPad
It's not about which one is superior: more powerful or better looking. It's about what you need the tablet for. Some will call the Galaxy Tab plain smaller. To others it will mean more pocketable, manageable and easier to handle. Some need to make calls on their tablets, to others it's irrelevant. Where some will see a small screen, others will appreciate the better DPI.
For all the good and bad of it, the Samsung P1000 Galaxy Tab has finally arrived at our place and we are ready to give it a test ride. Everything you may want to know starts right after the jump.
M
Please i cannot download app anymore even when i have free 15GB in my phone(Samsung anycall GALAXY, Model Number GT-P1000 with 2.3.4 Firmware Version)
D
try doing a factory reset. it works all the time :)
t
please I can no longer downloading apps any more