An expanding universe
Samsung P1000 Galaxy Tab review: An expanding universe

Phonebook for tablets
The phonebook is one of the apps where Samsung decided to put the large screen estate to a better use and they've redesigned the interface. The updates are mostly about looks and showing more information on one screen, as the functionality is the same as in the stock app.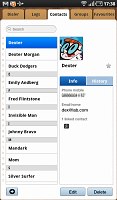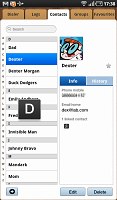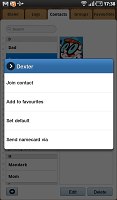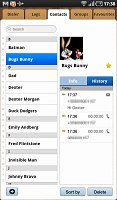 The phonebook is well adapted to the larger screen
You can pick which contact list should be displayed (phone memory, SIM-stored and all Google contacts) and you can search the entries by either flick-scrolling the list or using the alphabetic scroll bar.
This time instead of having one screen for browsing your contacts and another for checking out the details of a single entry you get them both at the same time. The list goes on the left and the details are on the right. Handy, eh?
The Quick contacts functionality is still here – a tap and hold on any name brings up the bar with available options. You can then initiate a call, text, or email with a couple of clicks.
There are many info fields that you can assign to each contact, but it still remains perfectly organized. You have all the types listed (numbers, email addresses, etc) and there's a plus sign on the right - clicking it adds another item of that type. Pressing the minus sign under it deletes the unneeded field.
You can also check on the call history of a single contact straight from their profile in the phonebook. Again it's only a click away.
Telephony is all there
And here we come to one of the more interesting aspects of the Samsung Galaxy Tab. With the handset supporting voice and video-calling, it could in theory replace your phone all together. Now we don't know how practical it is to have a 7" device as your primary phone but if you decide to go for it, the software is all there to support you.
You can talk by using the loudspeaker or you can go for a pair of headphones and again use the microphone on the device itself. The more sensible approach will be to use a handsfree (wired or Bluetooth) as you won't need to go shouting at the device from a distance.
The only thing you can't do is pretend you are Gulliver in Brobdingnag and hold the Tab next to your ear. Technically, you can do that too, but there is no earpiece and the loudspeaker might hurt your ears, so it's not generally recommended.
As far as reception is concerned, we experienced no issues or in-call voice quality drops.
On the software side of things the Galaxy Tab starts strong with Smart Dial. As good as on the company's dedicated smartphones it searches both contact numbers and names.
The available options during a call include hold, add another call (create conference call), mute and, of course, end call. The keypad is visible at all times, which is convenient for those interactive call handling systems and in case you need to write down a number.
We also ran our traditional loudspeaker test on the Galaxy Tab. The big guy was rather quiet ending with a Below Average score. Missed calls are likely in noisier environments with this one. What is more worrying is that you'll probably have hard time using it for consuming multimedia content.
| | | | | |
| --- | --- | --- | --- | --- |
| Speakerphone test | Voice, dB | Pink noise/ Music, dB | Ringing phone, dB | Overall score |
| Samsung I9000 Galaxy S | 66.6 | 65.9 | 66.6 | Below average |
| Samsung P1000 Galaxy Tab | 66.7 | 64.6 | 68.6 | Below average |
| Google Nexus One | 69.9 | 66.6 | 79.1 | Good |
| Apple iPad | 66.5 | 65.8 | 69.7 | Average |
| HTC Legend | 78.0 | 74.3 | 79.7 | Excellent |
More info on our loudspeaker test as well as other results can be found here.
Messaging is what the Tab does best
Now while we're a little uncertain about calling, messaging on the Tab seems a far more likely scenario. Email is probably where all the focus will go but with a SIM card already inside the occasional SMS and MMS messages aren't out of the question either. Fortunately the software is all there to take care of it.
The SMS and MMS messaging section is quite straightforward and simple - there are no folders here, just a new message button. Under that button is a list of all your messages organized into threads.
Going landscape allows you to check out the list of conversations on the left and see the messages in the currently selected one on the right.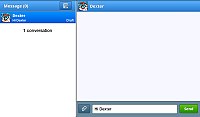 It all feels more natural in landscape mode
Swiping on a message header will do exactly the same as in the phonebook – a left swipe starts a new message, while swiping to the right will start a call.
There's an application-specific search that lets you quickly find a given message among all your stored SMS and MMS.
To add message recipients, just start typing the corresponding name or number and choose from the contacts offered.
Any unsent messages and drafts are marked with a red "Draft" label. What we really like is that each thread keeps the text in the tap-to-compose box even if you exit without sending it or explicitly save it. The "undelivered messages" section has been removed.
If you wish to manage a specific message in the history, you can press and hold a message to bring up options such as edit, forward and delete as well as view details and copy message text.
A press-and-hold in the tap-to-compose area gives you access to functions such as cut, copy and paste. You are free to paste the copied text across applications like email, notes, chats, etc. and vice versa.
Converting an SMS to MMS is logical and easy. When you add multimedia content to the message, it is automatically turned into an MMS. You can just quickly add a photo or an audio file to go with the text or you can choose to go into a full-blown MMS editor, depending on your needs.
The email client is another part of the Galaxy Tab interface that has been modified to make better use of the larger screen and higher resolution. You now get the list of your emails on the left and a preview of the currently selected one on the right. You are also free to change the size of the two fields by dragging the dividing line that's between them.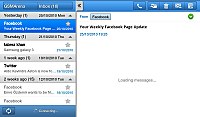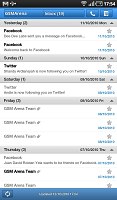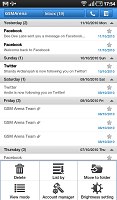 The email client got updated too
Both the regular email client and the the Gmail app supports batch operations, which allows multiple emails to be deleted, mark as read etc. Multiple POP or IMAP accounts accounts are naturally supported (and now those can be quickly switched with the shortcut on top). You have access to the original folders that are created online, side by side with the standard local ones such as inbox, drafts and sent items.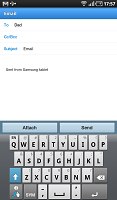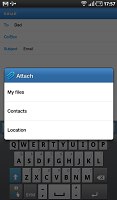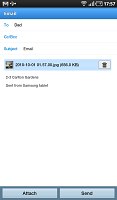 Composing an email is pretty straightforward
The Galaxy Tab also sports a combined inbox, which brings together all your mail in a single folder (color-coded to make orientation easier) so you don't need to check each one for new mail. This can be quite handy if you have lots of accounts and you just want to check if there is a new message needing your attention.
And you won't have much trouble with the input either. On a screen this big and with a device that can lie on a table steadily you can speed your way through quite a lot of text. You get QWERTY in both portrait and landscape modes and there's Swype to give you that extra speed.
There's an excellent tutorial to answer all your Swype-related questions and to teach you all the little secrets - capitalizing, punctuation etc. If Swype isn't your cup of tea or your native language isn't supported, turning it off and using the rather comfy Samsung keyboard is also an option.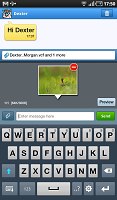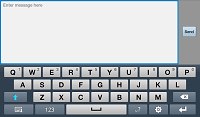 The available text input options
You may not be crushing the records of your netbook-owning buddies, but you will have little trouble entering text on the Tab.