An expanding universe
Samsung P1000 Galaxy Tab review: An expanding universe

Even tablets need a camera
With so much more space available, Samsung could have easily slapped an umpteen megapixel snapper on the back of the Tab. That wouldn't have made much sense though as shooting stills with a 7" slate is a rather…well, uncomfortable experience.
Instead the camera on the Tab is an extra feature that would enable an app here and will let you snap a contact photo there. It's not meant to replace your dedicated camera, nor should it be considered as a key selling point at all (though it gives it an edge over the iPad).
What you get with the Galaxy Tab is 3 megapixel resolution, LED flash and no shutter key.
At least you get the same camera interface as on the Galaxy S. While we appreciated it on a screen this big is a whole other question, as you need to reach much further to get to the two tabs.
On the other hand you can hardly miss one of the keys with them being so big. The interface offers readily accessible Scene and shooting modes as well as exposure compensation and flash settings.
Features are also well covered with geotagging, face and smile detection all on board.
The image quality is pretty decent considering the 3MP resolution. The noise reduction algorithms are well balanced and mature enough so there is neither too much noise nor too great a loss of fine detail. Colors are natural and dynamic range is good.
But for the pink spot issue (which is most evident on the res chart shots below), the Galaxy Tab has a great little snapper.





Samsung P1000 Galaxy Tab camera samples
Synthetic resolution
We also snapped our resolution chart with the Samsung Galaxy Tab. You can check out what that test is all about You can check out what that test is all about here.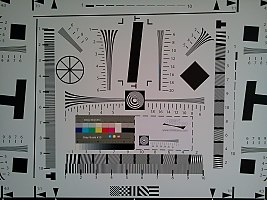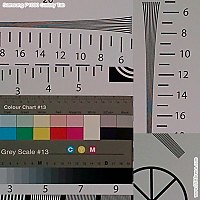 Samsung Galaxy Tab resolution chart photo • 100% crops
Video recording
The video camera of the Galaxy Tab is in a pretty much identical situation to the still camera. You get D1@30 fps video recording, which isn't bad, but won't blow your mind either.
The amount of resolved detail is good and we like how Samsung took the same relaxed approach to processing, leaving the videos with a nice natural look and little noise. If you are into punchier output you might be a bit disappointed as there are no settings available to increase contrast or saturation.
Samsung P1000 Galaxy Tab video sample
Connecting people
Being able to get internet connectivity everywhere is vital for a tablet device. Fortunately the P1000 Galaxy Tab won't let you down, sporting all the radios you might possibly need.
The tally starts with quad-band GSM/GPRS/EDGE and dual-band 3G with HSPA, going at up to 7.2 Mbps for downloads and up to 5.76 Mbps for uploads.
On the local connectivity front you get Wi-Fi (b/g/n), the new Bluetooth v3.0 with A2DP support and USB v2.0. Unfortunately Samsung went for a non-standard 30-pin port instead of microUSB (the Dell Streak uses a similar port too).
The reason behind this, according to the manufacturer, is the inclusion of a miniHDMI port on the multimedia stand, which wouldn't be possible otherwise. Now here is one for you – what if they had both ports separately instead of combining them into one? You wouldn't need to spend extra on the dock and you would get standard interfaces. And we just can't see that adding too much to the weight or thickness.
We are also missing the USB host functionality. It would certainly make sense to include it on a tablet with such great multimedia capabilities, so you can, check out a few movies straight from your thumb drive or download a few shots from your camera memory card with a card reader.
Next comes the Bluetooth v3.0 connectivity, which on Android Froyo can be successfully used for transferring all kinds of data.
Besides its 16GB integrated storage, the Samsung P1000 Galaxy Tab supports microSD cards of up to 32GB. The slot is hot-swappable so if you prefer you can get a card reader and move your files that way. However, we find that a little too inconvenient to justify the slight increase in the transfer rate speed.
The 3.5 mm standard audio port completes the connectivity rundown. You can keep your favorite headphones and use them with the Galaxy Tab hassle-free.
The web browser gets an extra point for Flash
The web browser has always been among the strongest Android elements and with Froyo it's probably the best you can get on the market. Not only are its usability levels top notch but its functionality is unrivaled too.
The user interface of the Tab browser is identical to what you see on a Froyo-running smartphone.. All you get on the screen is the address bar, which disappears when you scroll down. If you are dealing with apps that need all the screen estate they get, you will be fine with the Tab.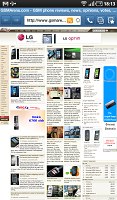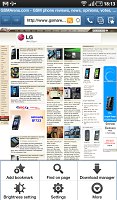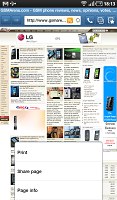 The Tab has a pretty powerful browser
With both pinch-zooming and double tap supported you will also have no trouble going to the desired magnification level and you get text reflow so the Tab saves you some needless, irritating scrolling.
Hitting the menu key makes six keys pop up. You can add a bookmark, search on page, manage your bookmarks etc. You can also reach for the top of the page if you need to open a new tab or switch between the currently active ones. A quick brightness setting is also available here, but you can just as easily use the slider in the notification area.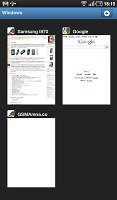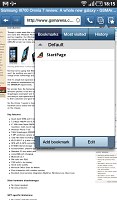 Managing open tabs and bookmars
The bookmark list shows a thumbnail of the bookmarked page and you also get a "most visited" list in addition to the history.
And finally we come to Flash, which the Samsung P1000 handles with ease. It doesn't have Flash Lite, but the real desktop thing – Adoble Flash 10.1, which guarantees compatibility with everything you might encounter.
Now performance is a whole other story for two reasons. First, not all Flash elements were meant for touch-use and second, Flash is known to be pretty demanding on the hardware. That's why despite managing to play 1080p videos on occasions, the Tab has issues with 720p Flash videos. If you keep things at about 480p however you will be fine.
The couple of random Flash games we tried worked pretty well too. At any rate if you happen to be dealing with Flash sites, an uninspiring performance is infinitely better than no performance at all.
And if you happen to only access non-Flash sites, or sites where Flash elements aren't required (banners, for one), you can switch it off to improve loading times.
With web browsing the main reason to go for a tablet in the first place and Flash being pretty popular, this support gives the Tab quite an advantage in comparison to the iPad.