An expanding universe
Samsung P1000 Galaxy Tab review: An expanding universe

Organizer is all set
Organizing your time is what a mobile computer should be able to do and the Galaxy Tab strives hard to match that definition. And while it's not a proper OS you are getting, the time management features are as good as you are ever going to need.
The calendar, which can be easily synced with your Google account, allows you to easily create and manage events and comes with a shiny new UI designed for tablet use. You get the usual view modes available but now the events can be previewed for all of them – including the monthly one.
Adding a new event is quick and easy, and you can also set an alarm to act as a reminder. Even adding a location from Google Maps is supported.
The Samsung P1000 Galaxy Tab comes with ThinkFree Office pre-installed – it's both a document viewer and an editor. It works like a charm and you can control zooming with a pinch gesture. Both panning and zooming are fast and the overall performance of the Office package is excellent.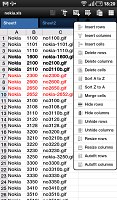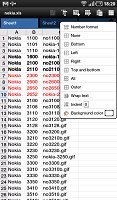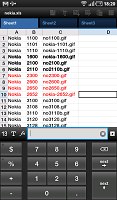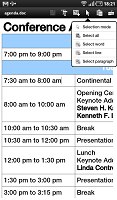 Managing documents on-the-go is possible with the preinstalled ThinkFree Office
Strangely enough there is no calculator aboard. You will have to go to the market and grab one yourself, but at least there are plenty of free options there so it won't cost you anything.
The Samsung P1000 Galaxy Tab features a decent alarm clock application, which allows you to set numerous alarms, each with its own start time and repeat pattern.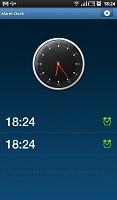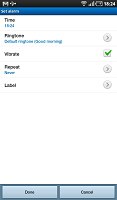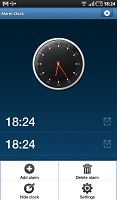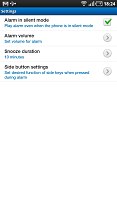 Setting up an alarm on the Galaxy Tab
Samsung have included the My Files app – a simple to use but functional file manager. It can move, copy, lock and rename files in bulk, even send multiple files over Bluetooth. It will only browse the memory card and the large internal storage (it can't access the system memory).
Next, Samsung Galaxy Tab features the Readers Hub app, which allows you to access over 2.2 ebooks ePub, PDF, and Adobe DRM. Samsung also promise that the will also allow you to to add ebooks bought or downloaded from other sources. The Readers Hub gives you access to a large selection of magazines and newspapers too. The subscription is pretty easy and is done from the app itself.
The user interface of that app is also pretty decent, supporting swipe gestures for turning pages as well as taps. Both Horizontal and landscape modes are supported.
Finally, comes the YouTube app which allows you to watch YouTube videos without entering the browser. There are standard and high-quality settings, but even if you select high-quality you still don't get as good videos as on the iPad (which has no settings available whatsoever).
Android Market is where the apps come from
The main strength of an operating system lies in its app base and Android is hardly short on apps. Fortunately the Galaxy Tab has access to the official android repository, or as we all know it – the Android Market. The number of apps there is huge and rapidly growing so chances are you will find something for every taste.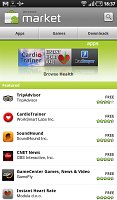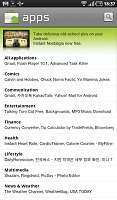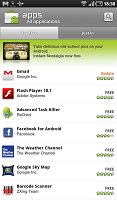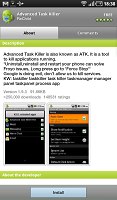 The Galaxy Tab has access to the Android Market
The market interface itself hasn't changed much. The first screen of the Market shows several featured apps. The Market organizes apps and games into two separate tabs and each tab lists sub-categories (e.g. Finance applications, Arcade & Action games). In each category you can select to view the top free, top paid apps or ones that are "Just in".
There's a third tab – Downloads – that keeps track of what you've already downloaded. With Froyo you won't need to keep too close an eye on this tab – apps automatic updating is supported as long as you permit it. Still you can use it to uninstall apps, but it's not the most comfortable way to do it.
Applications range from pretty silly (including one that simulates a doorbell), through fun (e.g. a virtual guitar) to real must-have's (including alternative launchers, themes, navigation software and more), but that's true for every other app store.
Now for the bad news. The Galaxy Tab has a resolution higher than any Android smartphone and that means some apps aren't designed to work with it. Of course there are also some app that have a version that can fill the whole 1024x600 pixel-display, but most will simply leaves the borders unused.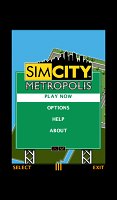 Most apps only use a part of the high-res screen
Of course making an app compatible with a higher resolution is easier than creating the app itself so it shouldn't take long for the whole market to get Tab-friendly versions. And the number of tablets will increase in the future so it's not like it won't be worth the effort.
GPS with Google Navigation
With its 7-inch screen and built-in GPS receiver the Samsung P1000 Galaxy Tab can easily become one fat-ass SatNav device. The sensitivity of the GPS module is decent, the Tab achieving a satellite lock in just over 3 minutes with A-GPS switched off. If you have an active data connection you can easily cut down on that time.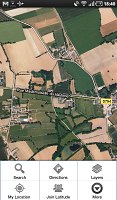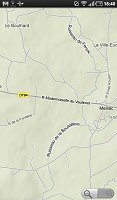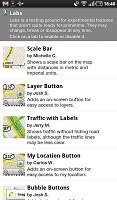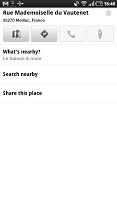 Google Maps will hardly surprise anyone
It comes as no surprise that Google Maps is the only mapping software that comes preinstalled. Unfortunately, voice-guided turn-by-turn navigation by Google Maps still has limited availability.
So, unless you are in the lucky few countries that do have Google Maps navigation already, you can either use the route planning to turn the Tab into a digital Map, which is reasonably easy to follow or grab a third-party solution from the market. The second option is certainly more comfortable but most good apps don't come free and you might have some issues with the Tab's screen resolution.
Back to Google Maps now and the Galaxy Tab Street View mode support. With the large screen and the built-in compass you can enjoy a 360-degree view of an area of your choice.