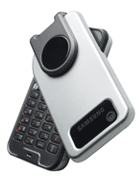 ?
Everyone is crazy, this is a nice phone, it is sleek and hot! It is a nice color and it is a phone with a keyboard that fits in your pocket! There are not many phones that are small and have a full keyboard like that. This is an updated version of an older model and it this one has a camers and a swivel screen. This phone get 5 stars!
?
Is this a phone just for the lower end, yet stylish?
Its got a QWERTY keyboard... thats good..
h
i hate to say this but what's the use of a 25mb non expandable memory? and the vga camera?
R
no HSCSD? u'd think with Q Keyboard and new phone this would already be a standard feature..
?
we want some oficial photos !! u can't even tell where is the display on this phone :(
d
Full Querty keybord!! for what !!

and no memory card !! VGA camera..just cool design no thing special .

s
why so low camera and low..specs on the phone..is this a ultra slim..like 60-70 gr..if yes..this will be a great phone to have
Total of 49 user reviews and opinions for Samsung P110.