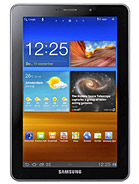 h
AnonD-148701, 24 May 2013does anyone here knows where i can buy this in dubai?uae.souq.com
B
Anonymous, 12 Feb 2013usually samsung product, lots of smoke and little substanceAlso, Note 3, nothing, and i mean nothing will come even close to that. Maybe the Sony Toari but not even the nexus 5 or moto x with the rumoured specs will sound attractive enough. The Note 3 will have enough features to have the need for an encyclopedia, others copy and imitate the masters. Apple, like WTF do they do now that stands out? Nothing really.

p
the update is free and you don't require anything to install. just connect your tab to wifi and update software from settings > about phone > software update > update and just wait for sometime and you'll have android 4.04.
N
Samsung should made a new 7.7 tab with nexus 10 spec pluse the new JB 4.2.
B
Even though released in late 2011, in Aug 2012 I bought a second one. Outstanding. Better than the Apple Retina display. Rear cam is an extra many cheaper devices do not have. Its functions beat the Nexus. I would buy it again, the 2nd one was $280 from JB Hi Fi. Great supplier, bought both from them. Love this machine. Its almost a year old but still outperform many newer machines. Expansion memory slot is another big plus. Full function GPS too. Has honeycomb which can hopefully be taken to ICS. The rep at JB Hi Fi put me off Jellybean so quite happy with both devices do(the first one is rooted, took under 2 mins). Buy this machine if you can get it for around $275 - it will compare well with newer tablets.
g
i want a 7.7 tab but definitely with a better cam like 8 -12mp do u
s
just got this tablet, what a great machine. Fast and that display. Best i have seen. Size and weight are spot on. Got the 32 gig wifi in austraila for $349 from jb hifi.
Total of 14 user reviews and opinions for Samsung P6810 Galaxy Tab 7.7.