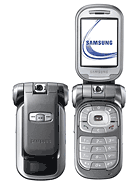 A
Does it cost money to watch TV? Do you need a UMTS connection? Thanks.
o
nice! love the look, fantastic, smart...wish i had one...hint hint nudge nudge.
g
fantastic phone, like the look, somewhat similiar to the V200 of yester-year, however i have heard that the P920 allows for your recorded videos to play in the standby screen as wallpaper...is this true?
K
I just sold my korean ver.. the gsm ver seems to be downspec-ed and this design is a yr old now.. it had crazy spec when it first came out tho, still great for watching qvga mp4
E
Does anyone know if this product would be able to pick up reception in US? Does it pick up reception like a tv with VHF/UHF antennae?
Total of 34 user reviews and opinions for Samsung P920.