Flexibility has been a key focal point of innovation in the smartphone industry lately and it looks like things will continue in the same direction. Samsung has recently been granted a US patent for a flexible smartphone, targeted at active users.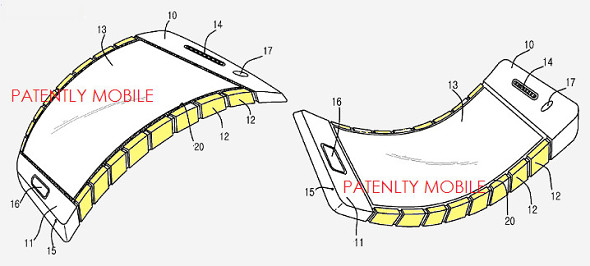 The concept relies on a set of discrete elements that will be able to move relative to one another thus forming a curvature. The links will be hinged in such a way, that both a convex and concave curvatures will be possible. Battery cells will also be distributed among multiple sections.
One suggested use of the novel smartphone is flexing it, so the elements open up and then grab on to the user's clothing, thus eliminating the need for additional straps.
The patented device is a logical extension to Samsung's ongoing work on flexible displays. Naturally though, a lot of time needs to pass from the patent to an actual device, so don't get your hopes up just yet.
Meanwhile, fans of curves can find a compromise in the LG G Flex2, although that one is permanently curved and lacks the suggested outdoor functionality, instead focusing on looks.
a
so after bending this phone like a thousand times, do they really believe that the whole phone will retain the ability to become perfectly flat?
?
They're already having that on TV's...
D
if samsung can pull this off, it could be the game changer