The special sibling to Samsung's latest flagship, the Galaxy S6 edge, is apparently even hotter than the company had foreseen. After forecasts by market analysts reached a 55M total Galaxy S6 units sold throughout the year, the Korean giant is finding a hard time keeping up with the demand.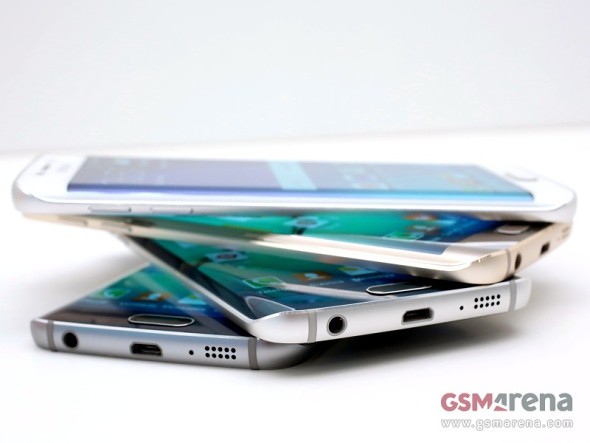 As it turns out, the ~€150 price premium that the edge variant commands over an identically specced regular Galaxy S6 is proving to be less of a deterrent to prospect buyers that previously suggested. Equal quantities of both are now expected to be sold and Samsung is planning on tripling the originally planned output.
It was previously reported, that the limiting factor in the smartphone's production may be the curved glass, but new info in Korean media claims that it's in fact the touch screen panel behind it. So far a single company has been producing the touch screen panels for the Galaxy S6 edge, Japan's Alps Electronics. With the demand increasing, Samsung is turning to the domestic industry and Korean manufacturer S-MAC has been mentioned by insiders as a future Samsung partner in the field.
With the pronounced trend towards more unorthodox screen implementations and the purported dual edge Galaxy Note 5, the Korean display industry can reap benefits from such partnerships for years to come.
I
The Galaxy S6/S6 Edge have 20 million pre-orders. http://www.ibtimes.com/samsung-galaxy-s6-sales-estimates-increase-amid-heavy-demand-2015-flagship-1843502 Compare this to iPhone 6/6+ which only had 4 million pre-orders.
K
The Galaxy S6/S6 Edge has 25 million worldwide carrier pre-orders. The iPhone 6/6+ only had 20 million worldwide carrier pre-orders.
D
I see you babies are still whining about the lack of SD card and removable battery. Whine away that's your right, but it is particularly sad that most of you cannot imagine the whole world doesn't feel exactly as you do. These constant refrains of ...