Samsung continued its outstanding performance in Q3 of the year, achieving 35.86 trillion Korean won (about 31 billion US dollars) revenue. The consolidated operating profit is 4.23 trillion Korean won (3.6 billion dollars) indicating that the company has been in excellent form for the past three months. Those numbers are respectively 18.5 and 185.8 percent higher than those for the same period of last year.
As usual lately, the mobile division is among the best performers in the conglomerate. It registered 10.71 trillion (9.1 billion US dollars) won in revenue reached which is a 20.6 percent increase year-on-year The operating profit of 1.03 trillion won (874 million US dollars) for the third quarter is a quarter-best for the industry.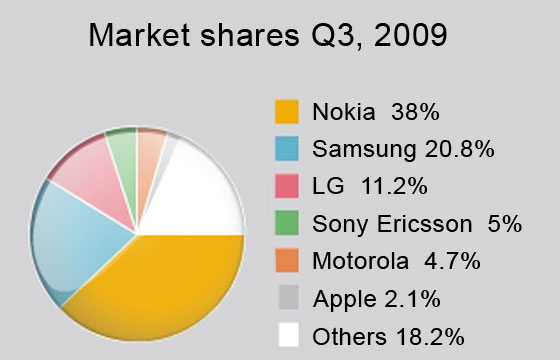 The number of Samsung handsets sold in Q3 of 2009 rose 15 percent quarter-on-quarter to 60.2 million units. That gives the company a global market share of 20.8 percent, exceeding the 20 percent mark for the first time in its history. Samsung is also well on track to beat its full year 2009 target of 200 million mobile handsets sold.
You can find the full report by following the link.
A
Well done Samsung :) Keep continue and beat down the Nokia, Nokia do nothing by keep producing repeating product. Bravo! Samsung!
ADVERTISEMENTS