Samsung posts tips for vloggers on how to get the best out of the Galaxy S10+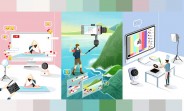 So, you want to be a vlogger? Samsung has posted a few helpful tips that start with getting a Galaxy S10+. Anyway, the guide offers advice on how to improve the quality of the footage as well as the content of your vlogs.
The first tip is simple – if you don't have a stabilizing gimbal on you, Super Steady Mode can shoot shake-free footage (it works best for well-lit scenes). You can use Hyperlapse to show transitions from one location to another. You can create Hyperlapse videos from regular footage, which is great if you forgot to enable it at the time.
Slow motion clips are a reliable way to spice up your content, the Galaxy S10+ can stretch 0.4 seconds to 14 seconds. Samsung notes that slow-mo clips can be looped and shared as a GIF.
The final two tips are for you. The first isn't so much a tip as pointing out that the S10+ (as well as S10 and S10e) can shoot 2160p selfie video so you get better quality footage for the segments where you talk into the camera.
The final tip is using the upgraded AR Emoji to add a cartoony twist to your vlogs. Here's a video by Korean vlogger HongJun that shows those suggestions applied.
s
I do not understand why samsun uses 2 different chipsets. If snapdragon is better why they do use exinos?
S
And that's where you are wrong. Although processing can be similar, you didn't consider the hardware aspect, more specifically the GPU and ISP of both variants, in which the Snapdragon is generally superior. And don't you just notice it, that ...
S
Low light: https://youtu.be/G8UtAiISnpg Day light: https://youtu.be/7zxnCK5LOu0 Even without the camera stuff and that, Exynos S10, in particular, is simply inferior to the Snapdragon variant, most especially in performance. https:/...