Update 28 Dec: Thanks to mobile-notes.net live pictures and video walkthrough of the new mobiles has appeared online, so enjoy those. The Samsung F490 surely looks the part and seems a lot faster than the Samsun Armani phone and slightly faster than the Samsung F700. You will find the updated text marked in red further down.
Samsung officially presented two of its latest mobiles. The Samsung F490 is a full touch-based handset with a large TFT display, while the Samsung P720 will be the second dual-SIM handset by the South Korean manufacturer.


From left to right: Samsung i550, i780, F490, F700, P520 Armani and i560
The Samsung F490 looks much like the Samsung F700 it's seated next on the press photo. It will have a slim profile, a 5 megapixel camera and haptic touch feedback. The 3.2-inch touch-sensitive TFT display has a resolution of 240 x 432 pixels. The Samsung F490 will appear in the beginning of 2008 and will cost around USD 600.
There are three touch-sensitive keys right under the display and the Samsung F490 is also equipped with 3G and HSDPA. With its 5 megapixel camera it pretty much resembles the LG KU990 Viewty. Unfortunately, the display doesn't seem to be capable of changing orientation to landscape mode like the Samsung F700.
The Samsung P720 is somewhat based on the Samsung Armani model, however it will offer DualSIM functionality. The handset will have a QVGA touch sensitive display and a 3 megapixel fixed focus camera - much the same as the original Samsung P520 Armani. The Samsung P720 will be targeted at the Eastern Europe and Asian markets.
The Samsung P720 may look like the Armani phone but as evident from these mobile-review.com shots the Samsung P720 is a lot thicker than the Armani. Those shots were taken as early as October, but obviously mobile-review.com was bound by a non-disclosure agreement (NDA). Nevetheless they managed to slip these shot in their Samsung Armani review.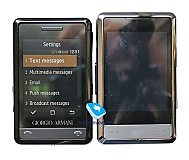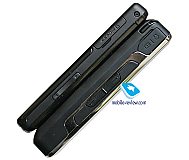 Samsung P720 compared to Samsung P520 Armani
And as promised here is the hands-on video with the two spanking new devices Samsung F490 and Samsung P720 plus the already available in some countries Samsung F700.
n
I want to buy a Samsung P720.pot I use Nimbuzz?...plz answer my...
D
Is the Samsung P720 released to Denmark yet or will it ever come to us ? or where can i buy it ?
t
hello...everyone! thus anybody know when would be the samsung f700 will be released in the philippines??i wanna buy that phone...how much???thanks guys...
ADVERTISEMENTS