Samsung announced its financial results for the first quarter of this year and the South Korean company is cheering. Analysts like Strategy Analytics say that it is now king of the mobile phone hill - ending Nokia's 14-year reign.
Samsung shipped 93.5 million phones in the three month period, while the former champ Nokia managed just 82.7 million. Of the shipped Samsung phones, 44.5 million were smartphones, which beats Apple's achievement of 35.1 million smartphones. This puts Samsung on top both in terms of both total phones shipped and in the number of smartphones.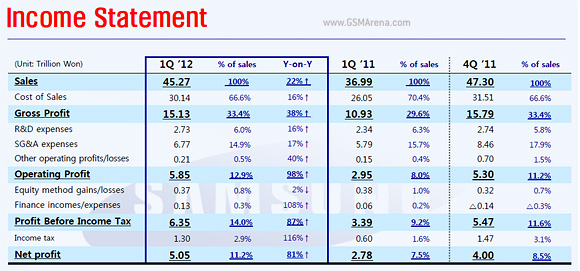 Consolidated revenue went up 22% year on year to $39.9 billion, while consolidated net profit reached $4.4 billion.
The chip manufacturing business is down, but demand for DRAM chips and application processors (especially the cool new 32nm ones) is expected to bounce back up in Q2.
The Samsung profit drivers were really IT & Mobile communications business and the display business.
The mobile business is seeing strong demand for smart devices of the Galaxy line (like the Galaxy S II and Galaxy Note), with revenue from the mobile division increasing 86% year-on-year.
IT was again the strong demand for high-end TVs (LED and 3D) along with tablet and OLED panels that helped push operating profit of Samsung's Consumer Electronics business up a whopping 550% in the quarter (year-on-year) to $9.4 billion.
You can find out more details on Samsung's performance in Q1 from its press release or this earnings release PDF.
G
incorrect...samsung never caught up with nokia in the dumbphone department...even now nokia's dumbphone sales are still higher than samsungs.....all it did was make sure that it had a head start in the smartphone department over nokia with cutting ed...
?
This thread is great. Flame war between fanboys and trolls. I don't care which company you are privy to, you are all sad.
?
But there are heaps of Androids to choose from. Obviously, one manufacturer is being chosen more than the others, and there's a reason for that. Learn to use your brain.
ADVERTISEMENTS