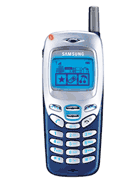 a
can somebody tell me what is the default
setting in r220 phone security setting?
because i can't lock my phone...
A
Excellent aesthetics/weight/size. Excellent feature set (it has a real calendar /w month view, not just some lame reminders like on 33xx's). Backlight is the best, makes other phones look dim. Screen is very high res 128x64 pixels (fyi the 7110 is only 96x65), aside from the status indicator icons that aren't dot-matrix. Processor is very fast, no keypress lag even on long SMS. Can't set tempo in composer. Can't send ringtones. Can't add new words to T9. No profiles, but there is one-key ringer mute.

Overall a very decent phone considering its price.
E
Hi All gsmarena.com Visitors,
I have bought Samsung R220 lately.It is a good phone.
Advanteges :
1.small & light weight.
2.Blue Elegant backlight .
3.Long Lasting Battery (about 4 days)
4.Downloading ringtones & Messaging.
5.W@p Internet Access.
6.T9 text Input.
Disadvanteges :
1.No Handsfree speaker.
2.No Voice Dialing & Voice Memo.

In general it is a very good phone .

G
hey satej,
go to www.yahoo.co.in and you will be able to download picture messages and ringtones.You just have to send a message to yahoo and the pic msg\ringtone will be delivered in less than 5 secs!!!!
G
one cannot send ringtones from the samsung r220.....sorry for the mistake
but its still the BEST!!!
S
why cant anyone tell me wher and how to downlaod free pictures and ringtones on my samsung r220
G
Its one of the best deals in the market and i even ditched a sony j70 for this one.it allows one to send pic msgs and download and send ringtones.
its a beauty and amazing jazzy blue colour will light up your day(and at night....its the best)
and NO ONE DARE CALL IT A SHIT PHONE!!!!
M
1. Good look
2. Light Wieght
3. Beautiful display
4. Wide rang (Colour)
Total of 592 user reviews and opinions for Samsung R220.