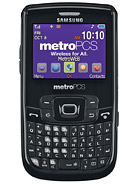 D
hi freinds...i have this phone around 3 days....plz tell me how can i set my phone that everytime i have email my phone alarm me?
S
1. What the current price of this mobile?
2. Is The font size of mobile can be changed or available only one size?
3. Is available in other colour?
?
Anonymous, 31 Oct 2010Saw this mobile today at a shop... slim,nicely designed,3G,looks like blackberry, thinking abo... moreYes it does charge ia USB.
n
yes it does. and the mobile is good. i guess it matches the dimensions of blackberry 9700. i have been using it since a week, and i am using a blackberry 9700 pouch to safeguard it. it fits perfectly.
Total of 5 user reviews and opinions for Samsung R360 Freeform II.