Samsung refreshes "Over the Horizon" ringtone ahead of Galaxy S20 launch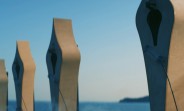 In keeping up with its tradition, Samsung released its latest remix of the signature "Over the Horizon" ringtone just ahead of next week's Galaxy S20 announcement. After last year's classical crossover, this time Samsung took inspiration from nature for its acoustic cover with a relaxing blend of monochords placed in a forest landscape.
The new ringtone captures the subtle sounds of running water and chirping birds through the lush forest landscape. The actual tune starts at the 47-second mark and continues for another 3 minutes. The sound is accompanied by soothing shots of grasslands and a coastal air view.
The "Over the Horizon" tune has been around since 2011 with the Galaxy S ll and is reworked each year for the release of the latest Galaxy S flagships. For a trip down memory lane, you can check out last year's coverage where we complied all 9 renditions of the default Samsung ringtone.
B
I was sarcastic, obviously it's useless news :)
B
Okay:-) I'm happy for u guys then (Y).
ADVERTISEMENTS