Samsung's Q1 report isn't ready yet (it should come out on April 25), but the tech giant released guidance for operating profit and sales for the first quarter of this year. While last year the company posted a massive increase in operating profit, this year it's 4.3% down.
Samsung's operating profit for the January-March period is KRW 8.4 trillion, while for the same period last year it was KRW 8.78 trillion. Due to changes in currency rates, the numbers look differently in USD - $7.9 billion last year and $7.9 billion again this year.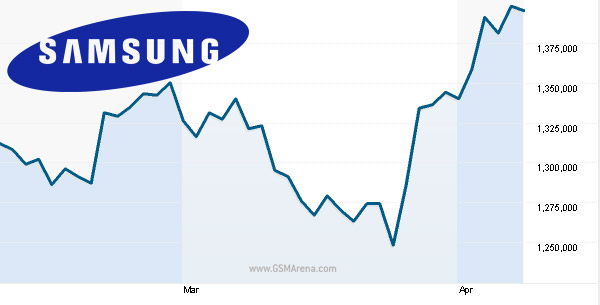 Sales are flat – KRW 52.87 trillion a year ago and KRW 53 trillion now. The market forecast was KRW 54.58 trillion, the operating profit forecast by Thomson Reuters was KRW 8.5 trillion.
Both numbers are below Samsung's guidance, but the company's stock seems unaffected for now.
Samsung's new flagship, the Galaxy S5, has not hit stores internationally, but it got off to an early start in South Korea to dodge a temporary sales ban imposed on local carriers (it was selling well though).
z
Meh... My mid range LG L9 runs much smoother than my Note1(almost the same specs).Now I have Sony Xperia Z and no lag,so I'll think twice before I'll buy another Samsung phone again.
N
hmm but yes ! most malaysian,bruneian and singaporean switching to apple,sony,htc and lenovo.Ive observed that iphone will dominate the smartphone market in Southeast Asia soon.Because if you ask some student especially from malaysia and singapore wh...
D
Well you can't blame people for moving to another brand for more better phones(in quality and user-experience)... Anyways touchwiz is still lagdroid in note3 (octacore in India), hopefully that ends with kitkat and s5!