Samsung remains the top smartphone manufacturer in Q2 2019, Huawei and Apple follow
Strategy Analytics and Counterpoint came out with some interesting data for Q2 2019 regarding global smartphone shipments, which to no one's surprise fell year-over-year. And despite the decline, Samsung and Huawei are seeing a modest increase in shipments and market share for that matter.
According to Strategy Analytics, global shipments fell 2.6% while Samsung recorded 1.9% increase, Huawei gained 1.7% and Apple lost 0.7% year-over-year. Those figures translate into 76.3 million units sold by Samsung, 58.7 million devices by Huawei and 38 million iPhones.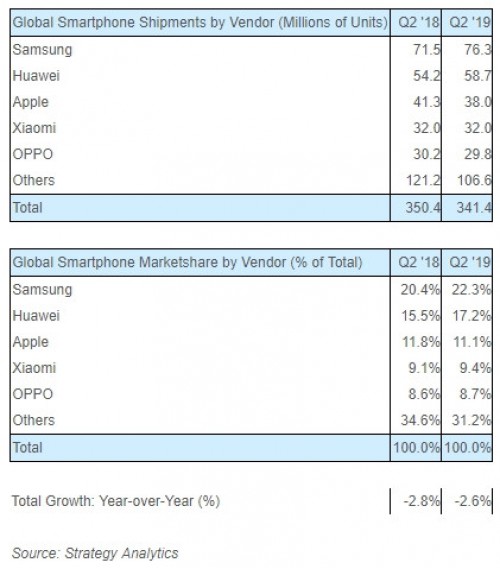 Xiaomi and Oppo follow the top three OEMs with 9.4% and 8.7% market share with both companies seeing a slight increase. However, total shipments for Oppo fell while Xiaomi's figures remain the same.
Counterpoint's research gives roughly the same data with a bit more detail for the rest of the brands in the top 10. Samsung's market share is around the 20% mark, Huawei nearly 16% and Apple with a little over 10% share. All three OEMs have a slightly lower market share according to Counterpoint's research. And on the contrary to Strategy Analytics' report, global shipments are down just 1.2% as opposed to 2.6%.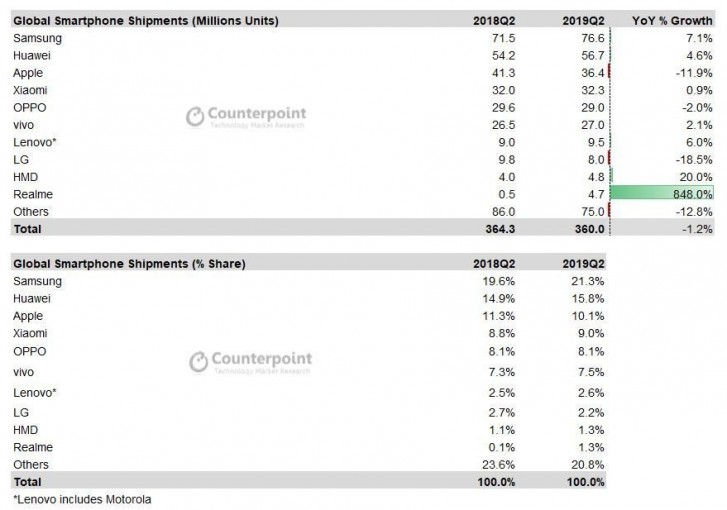 What's interesting is HMD Global (Nokia) growth with 20% more shipments in Q2 2019 compared to Q2 2018 taking the 9th place in the global rankings. Lenovo and vivo also record a modest increase in sales while LG struggles to keep it afloat. Realme's growth is 848%, which is normal given that the company's first smartphone was released in Q2 2019 last year.
B
Whilst Android vendors are more or less limiting the Google security patches to two years, Apple iPhones users quote a "strength" that they receive IOS updates 3 or 4 years etc after buying an iPhone, this is a reason to keep the iPhone longer. ...
m
Why change if it works really well🤳👍🏻? My S7 is great, and the incremental improvements in later models do not justify the higher prices. 5G will be another story.
?
All the best Nokia, hope to see you reaching 5.8 million unit smartphone sales in next quarter
ADVERTISEMENTS