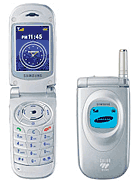 v
i know this phone will be around US$700 and will come out in UK before 2002 Christmas!
T
Hi, could someone please tell me where I can get this? I live in Hong Kong, and I have been looking ALL over for this phone, but all the shops say they don't have it and they don't know about it. Will it come to Hong Kong at all? Do you know when? Thank you!
D
I've been playing with this phone for a week now and I'm completely blown away. The screen quality is amazing, ring tones are incredible, and the it is by far the most feature-loaded handset I have ever seen!
F
Awesome!!! Simply awesome.
It's got excellent features! 65k graphics, excellent resolution (better than ericsson T68 by a mile!)large/small fonts. Not to mention GPRS, infra-red, organiser, polyphonic ringtones, nokia compatible melodies...wat more can we ask?
The design is good too, dual display!! Small and light 85g!!
IT simply body slams the rest of the competition!!
I would seriously consider getting it!
c
can anyone tell me when this phone will be out in the u.k ??? and how much it might be
J
If anyone has this phone please contact me, how much was it? Where from? Business deals..
Many thanks
Jon
c
does anyone know when this phone is due out in the U.K ??? and how much it will be ??? any information is much appreciated
C
the vibration is too smooth
CE Bayu Satrya
Gendeng GK IV/689
yogyakarta 55225
indonesia
Total of 95 user reviews and opinions for Samsung S100.