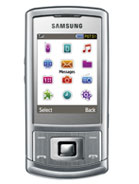 J
I Got this one & its amazing phone , in this price segment you are getting lot of features .
C
This is a fab fone. It holds 500 text messages plus 50 on your sim card. It has a theme creator (on 02 network anyway), you can hold up to 100 calendar and tasks each (with 100 characters in each one). You can save them on to your memory card (16GB!!!). You can change the font size, excellent display. You can save your inbox text messages to the calendar, or memo. The slider is good, fone is fast. You can change the alert message to your own, but not for individual contacts (it's got to be one for everyone), you can personalise the menu screen. The calendar holds 100 each for appointments, hoiday, anniversaries, important and private. However, in the sent box it does NOT display the time and date when you sent a message, but it will display it in the call log (a bit like the U600). And the battery is very poor!!! But I still like it. Well done Samsung.
m
Has anyone got this fone yet? I have just bought it but charging it for 12 hours (or more!!) so I don't know what it's like!!!!
v
I just got this phone.
It's a quite a nice ..

2M,16M color QVGA, 44M memory, BT messenger..
Total of 2291 user reviews and opinions for Samsung S3500.