Hot, young and social
Samsung S3650 Corby review: Hot, young and social

Organizer and apps
The Samsung S3650 Corby has a number of useful time-management applications.
For starters, the calendar offers three views - daily, weekly and monthly. You can choose which calendar view should be default and you can pick the starting day of the week - the options are Monday or Sunday. However, with the Samsung S3650 there is only a single type of event available in the calendar. You can set the starting date and time of the event and set an alarm to act as a reminder.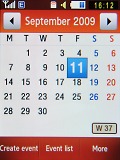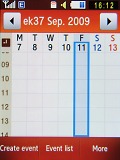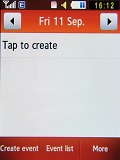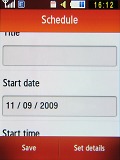 The calendar monthly and weekly view modes • setting up an event
The alarm is quite customizable. You can set up to 10 alarms, each with the following configurable options - custom ringtone, volume, repetition days and name.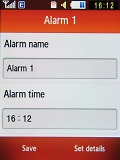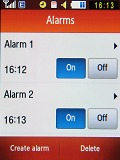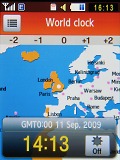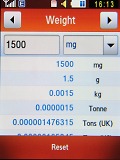 Alarm clock application • world clock • the nice unit converter
The calculator of the Samsung S3650 is very basic. Among the other organizer offerings are a voice recorder, a world time application and a unit converter. The voice recorder limit is set to 60 minutes. A countdown timer and a stopwatch also come in useful.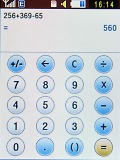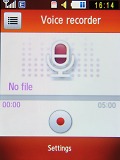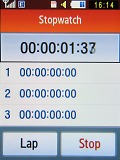 The calculator is simple • voice recorder • stopwatch
There are also to-do and memo applications for jotting down tasks and notes. You can also use the memo widget to place a memo on the homescreen where you're unlikely to forget it. The widget and the application are separate so don't expect your memos to automatically pop up on screen. Oh, and there's a to-do widget as well.
Finally, the Samsung S3650 comes with an office document viewer that supports Word, Excel, Powerpoint and PDF files. It's an application developed by Access and is one of the nicest additions to the software package.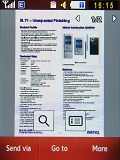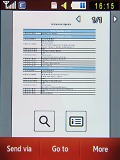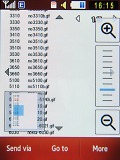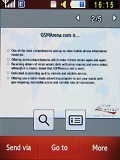 Samsung S3650 Corby has no problems handling office documents
The document viewer is quick enough when opening files; however, panning is rather slow.
Only trial games
Typical of Samsung recently, the S3650 Corby offers only a bunch of trial games - Asphalt 4, Brain Challenge, Diamond, Pyramid, Crazy Penguin Catapult and Monopoly.
Final words
There's nothing unique about the Samsung S3650 Corby but there's no way you can miss it. No, you won't be considering it, unless you're of a certain age, but you'll notice it and perhaps even appreciate it. Neatly repackaged to appeal to its intended audience, the S3650 Corby makes sense as an entry level offering. What's more - given its specific targeting - the phone seems capable of convincing those who'll be using it and those who'll be buying it.
The S3650 Corby is a simple, affordable and attractive touchscreen with modest but very focused feature set. It is designed to be small, to suit the social needs of youngsters and to be trendy. Its styling and Fashion Jackets are quite relevant too. Camera, MP3 player, capacitive touchscreen, neat user interface and distinct design are enough to seal the deal.
There's no shortage of basic touchscreens lately but the S3650 Corby's specific targeting makes it quite hard to pinpoint a direct competitor. An almost textbook example in this segment though is LG KP500 Cookie - pretty much the standard along with the Samsung Star for appeal, affordability, fun and ease of use. The Cookie has similar features and looks a bit more serious (as if teens and tweens care) and costs a bit less, now that it's been around for a while.
Looking into the Samsung back catalogue you get the S3650 Corby's most likely prototype - the S5230 Star. With almost the same specs and price, but with different - more mainstream - design, bigger (resistive) touchscreen and a 3 megapixel camera, the Star is selling like hotcakes. The new Star is also keen to play along, sporting Wi-Fi and a duly upgraded price tag.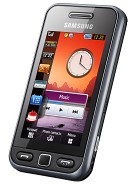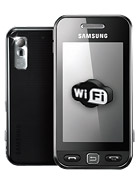 Samsung S5230 Star • Samsung S5230W Star WiFi
Talking of competitors, let's not forget one of the latest mid-range XpressMusic devices - the Nokia 5530 XpressMusic. Its price tag is heftier (30 euro more) but the extra cash gets you Symbian OS, Wi-Fi support, a 3-megapixel autofocus shooter and solid music pedigree. And of course, if you prefer, you can surely get the Wi-Fi-less version that comes with GPS - the Nokia 5230.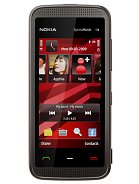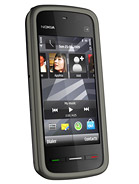 Nokia 5530 XpressMusic • Nokia 5230
Spending a week with the S3650 Corby we found ourselves liking it very much. It's pretty hard to imagine though it will ever outgrow its niche. A phone for tweens and teens, the S3650 Corby will hardly repeat the sales of the Star. But if it finds its intended audience it will probably do quite well for Samsung in the long run. Giving a tween a S3650 Corby may not make them a future geek. But a loyal user will suit Samsung just fine.