The Samsung S3650 Corby just got official and it's dressed to impress with its Fashion Jackets and ready for a night out, partying in social networks. With a price tag of 150 euro and attractive design, Corby aims to be affordable and appealing to the young audience.
The basic specs are reminiscent of the Samsung S5230 Star, but Corby maintains its own identity very well. Starting off with the physical dimension of the S3650, it's 103 x 56.5 x 12.0 mm big and weighs 93 grams. Packed in that compact shell are a 2.8" QVGA capacitive touchscreen (yes, capacitive) and a 2-megapixel camera.
MP3 player, microSD card slot for cards up to 8GB and a FM radio with RDS keep the S3650 rocking, and the WMV support is a really nice touch. A USB port and Bluetooth 2.1 will aid in loading up the phone with music from your computer, but unfortunately, the USB port is the proprietary Samsung one.
The Samsung S3650 is a globetrotter with its quad-band GSM and EDGE support, thought it's not the speediest one - it's 2G only. The 960-mAh battery should give it good standby and talk time numbers though nothing official was quoted.
On the social side, Samsung Corby offers Facebook, MySpace and Twitter integration and the list goes on. YouTube, Flickr, Picasa and Photobucket are Corby's playground as well. You can update your status on the various social networking sites and receive updates from your friends via a simple pop-up notification feature.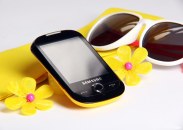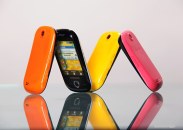 Samsung S3650 Corby shows off its festive colors
The Samsung S3650 also incorporates a lot of the know-how that went into the likes of the Samsung Jet, like one finger zoom, smart unlock and as with any recent touch-based phone from Samsung - TouchWiz user interface and a great deal of widgets. It also offers something called Cartoon UI, which is described as "a highly stylised graphical menu and wallpaper that adapts according to handset functionality".
One of the main things that Samsung hopes will attract people to the Corby (aside from its bargain price point) is the interchangeable back covers. The S3650 is available in bright colors, Jamaican Yellow, Cupid Pink, Minimal White, and Festival Orange (with more to come in the future), but can get fancy too. Included in the box will be two additional back covers - the Fashion Jackets.
Corby's front is black, and it's the back that receives the vivid color treatment. One of the Fashion Jackets is black, making the entire phone black (and black is elegant, right?), while the other one is more interesting - a unique pattern design color.
Check out our studio photos of Samsung S3650 Corby:
The Samsung S3650 Corby will be available in Europe from mid-September for about 150 euro (215 US dollars). No word on its availability outside Europe just yet.
d
it"s verry verry cool and easy to use>>>>>>>>>>>
R
Try the following reset code *2767*3855#
g
want the full factory reset code have put code on my and have forgotten the code.
ADVERTISEMENTS