Music player rocks with DNSe
The Samsung S3850 Corby II comes with good music credentials to make carrying a dedicated music player unnecessary. There's a standard 3.5mm audio jack and DNSe technology plus a microSD card slot for storing your music collection.
The music player allows filtering tracks by author, album, and genre. Automatic playlists (recently added, most played etc.) are also generated and can subsequently be used as filters. If that doesn't seem enough, you can create your own custom playlists.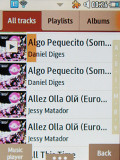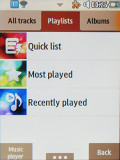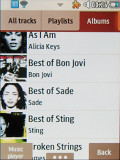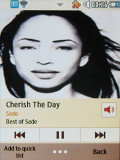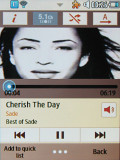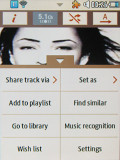 The music player is up to scratch
The music player can naturally be minimized to play in the background and can be controlled from the notification area or the lock screen.
The Corby II equalizer offers the standard presets: pop, jazz, classic, stereo widening, dynamic and surround effects. You can't create custom equalizers, but with such a rich selection of presets you really won't need to.
The DNSe sound enhancing technology offers Externalization, Music clarity, Bass enhancement, Mega bass, Wide and Concert hall presets for an even better sonic experience. There's also a virtual 5.1 channel mode too.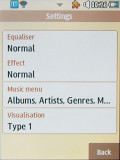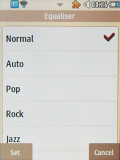 The equalizer supports DNSe effects
The Find music service is a tap away and can be used to identify music playing from somewhere else, e.g. at the café, by sampling about 10 seconds from it and looking it up online. There's also a Find similar, which looks for similar songs to the one you're currently playing.
Radio has RDS, can record too
The Samsung S3850 Corby II features an FM radio with RDS. The broadcast recording option is present, which can be a cheap way to get tracks or whole music sets off the radio.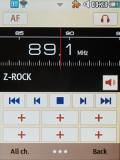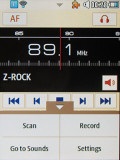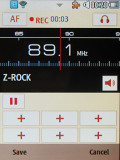 The FM radio application • Recording
You still need to plug a pair of headphones to serve as an FM radio antenna to get reception unlike the Samsung Champ, for instance.
Basic browser, connectivity pivots on Wi-Fi
The Samsung S3850 Corby II is generally unimpressive, but it's above the average for the price bracket. The inclusion of Wi-Fi helps a lot – a phone in this price range doesn't usually come with a decent data plan. The Corby II isn't 3G-enabled, so EDGE will have to do while you're out of range of Wi-Fi hotspots.
The Samsung S3850 Corby II's web browser looks very much like its Bada OS sibling but it doesn't offer much functionality. The browser supports kinetic scrolling and one-finger zoom. This about completes the list of browser features – there's no text reflow or Flash support.
There are bookmarks too along with history list and a list of most visited sites (displayed as thumbnails). There is autosuggestion for the URL bar, which means you won't have to type much on the uncomfortable keyboard.
The screen has enough surface area but the low QVGA resolution gets in the way of comfortable browsing – text is as good as illegible at low zoom levels.