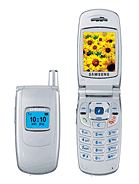 ?
i would like to buy the samsung S500, would you recommend it to me?
and can someone tell me the difference between MMS and EMS? thanks
J
I personally think that the feautures with this phone is crap compared to phones you can get nowa days.
t
Dear sir,
Please send me the user guide of Samsung SGH-S500 ( English language ). Thank you very much.
Toan.
N
Please, send sofware of S500
Total of 84 user reviews and opinions for Samsung S500.