It seems Samsung can not easily outdone by Sony Ericsson and LG, as they also have a new midrange handset to brag about. Samsung S5200 is their next planned product - it's got compact design and a 3 megapixel snapper.
Samsung have obviously presented the S5200 in the Netherlands the S5200 side by side with the already leaked M2710 and M2310.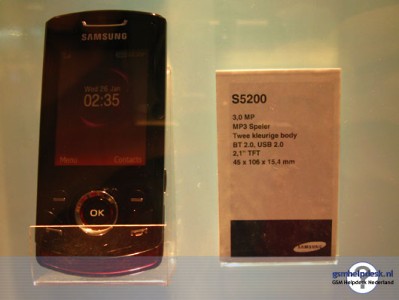 The S5200 is a stylish slider sporting a 3 mega pixel camera and 2.1-inch TFT screen, USB and Bluetooth connectivity.
There is no official word about the other specs, pricing or availability, but most probably it will pack a microSD card slot, otherwise the MP3 player will be really useless.
b
I think anyone who buy this phone more then 50 euro shpuld be punished with death sentence. 3 mpix camera horible
?
anyone who says 'noob' lives with his mum has no friends and suffers inferiority complexes
ADVERTISEMENTS