TouchWiz UI is quite a likely guess
Samsung have been using the TouchWiz user interface on all their touch phones ever since Samsung F480 Tocco. Quite expectedly, the Samsung S5230 comes with a slightly updated version of it much like the Samsung S8300 UltraTOUCH, Beat DJ and S5600. Lively, colorful and pleasantly thumbable - the latest reincarnation of the TouchWiz UI has inherited all the virtues of its predecessors and adds some interesting new stuff.
The heart of the new UI is the widgets - convenient mini-applications for customizing your home screen. Some of the widgets are more practical such as the calendar or the world clock, even the image gallery or the mp3/radio player, while others are just for fun.
Traditionally, all the widgets are stored on a bar on the left which you can toggle by using the small arrow in the lower left corner. You can pick which widgets to display by simply dragging them onto the display and placing them where you want. If you want to remove any of them, all you need to do is drag them back to the bar.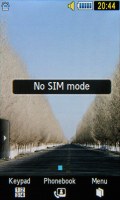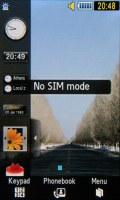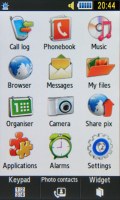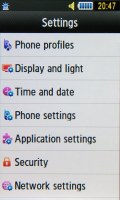 The TouchWiz UI and the main menu
The new feature on S5230 is the side scrollable home screen. This means you can have up to three different home screens on which to place various widgets on.
Besides the ability to sort your widgets on different desktops, you can also have a single wallpaper for both three homescreens - much like in Android OS. That way if you have an appropriately sized panorama image, you'll see different parts of it on the three screens.
Leaving some the wide-three-part home screen aside the S5230 unit we had didn't differ much from what we've already seen in other Samsung devices.
Samsung promised a new touchscreen feature called Gesture Lock to be present on both the S5230 and S5600. While we didn't find it on the pre-production S5600, it was available on the S5230 all right.
Gesture Lock enables users to simultaneously unlock the phone and open a menu item or an application, or even dial a contact, just by drawing an alphabet letter on the unlock screen.
Each alphabet letters from A to Z can be used as a gesture to perform the various actions in question. For instance, you can use it to start apps like the music player, messaging menu, the web browser, Java apps or the dialing keypad.
Finally, the main menu hides the new Photo contacts feature. It uses a fake 3D environment and shows up to 8 contact pictures in an arc. You can scroll them up and down and dial the one you want. It's a rather fashionable interface, but we doubt that it will turn practical for everyday use.
You can still check out some interface screenshots to get an idea of the rest of phone features - file manager, organizer, calendar and FM radio.