This article is outdated. We have already published a full review.
The simple messenger
The new Samsung S5230 has a large 3-inch touch display supporting hand-writing recognition. Writing a message can be done in three ways.
The first is the traditional one - typing by the virtual 3x4 keypad.
The second is to use the stylus and write the letters on the screen. We've hardly seen a user take handwriting recognition as a primary input method, but may be it's just us. In general, the handwriting recognition is very intuitive and in most cases recognizes the letters correct.
And finally comes the on-screen QWERTY thumboard that we missed on the Samsung S5600 (hopefully due to its pre-production status). With Samsung S5230 switching between the 3x4 keypad and the QWERTY one is seamless thanks to the built-in accelerometer - just turn the phone sideways.
Music player
The music player of the Samsung S5230 is exactly the same as in the S5600 and hasn't been much altered from the M8800 Pixon.
It allows filtering tracks by author, album, and genre. Automatic playlists (recently added, most played etc.) are also generated and can subsequently be used as filters. If that doesn't seem enough, you can create your own custom playlists. The music player can naturally be minimized to play in the background.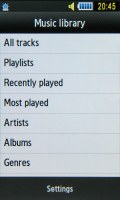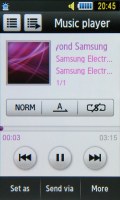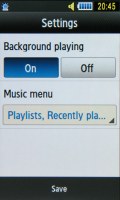 Samsung S5230 music player is quite familiar
The music player also has a dedicated widget, allowing quick access to the full version of the application by only a single tap. You can also start, stop and alternate tracks straight from the home screen if you prefer.
The equalizer offers the standard presets like pop, jazz, classic, etc. but it also packs three options thanks to the DNSe sound chip - widening, dynamic and surround effects.
Last, but certainly not least, the player is nicely touch-optimized including fast forward and rewind, just like the S5600. This adds up to an excellent music application that can fully replace your portable MP3 player.
Nice finger-optimized gallery
There is only one image gallery in the S5230 and it is an inherent part of the file manager and accessing it is as simple as opening any folder that contains images.
Once you open a picture to view, you can sweep you fingers across the screen to see the next image without having to return to the image list. The sweeping is really responsive and fluid and even the screen is a resistive one, it doesn't ruined the fun at all.
The gallery also has slideshows and a nice accelerometer-based feature. It lets you browse pictures in fullscreen landscape mode by simply tilting your phone on its side (plus, of course, you get automatic rotation of the photos by changing the device orientation).