This article is outdated. We have already published a full review.
The Gallery is built into the file browser
The S5260 Star II gallery is an inherent part of the file manager and launching it is as simple as opening any folder that contains images. You'll want to switch to Thumbnail view though (it puts the thumbnails in a grid).
Once you open a picture to view, you can sweep your fingers across the screen to see the next image without having to return to the image list.
Browsing the images is fast and responsive and zooming into 3MP images is no problem.
There's no pinch zooming despite the fact the Star II has a capacitive display. Instead, you have the one-finger zoom, which kicks in after you touch the image with your thumb for a second or two. Once it's activated, it starts zooming in before you've even moved your finger, which is annoying if you're trying to zoom out.
Browsing images in landscape mode is also available and the rotation is automatic thanks to the built-in accelerometer.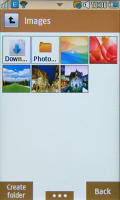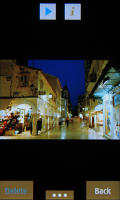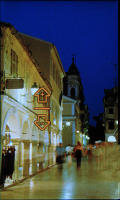 Thumbnail view • Viewing a single image • One finger zoom
Music player rocks with DNSe
Along with the standard 3.5 mm audio jack and the microSD card slot, the S5260 music functionality is complemented by the great music player usually found on Samsung devices.
The music player allows filtering tracks by author, album, and genre. Automatic playlists (recently added, most played etc.) are also generated and can subsequently be used as filters. If that doesn't seem enough, you can create your own custom playlists.
The music player can naturally be minimized to play in the background (you can control it from the notification area or the lock screen).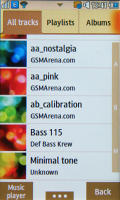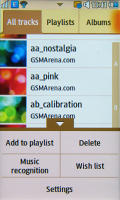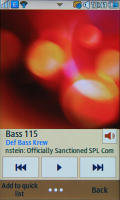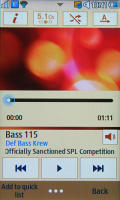 The music player is up to scratch
The S5260 Star II equalizer offers the standard presets like pop, jazz, classic, as well as widening, dynamic and surround effects. You can't create custom equalizers, but with such a wide selection of presets you really won't need to.
The DNSe sound enhancing technology offers Externalization, Music clarity, Bass enhancement, Mega bass, Wide and Concert hall presets for an even better sonic experience. There's also a virtual 5.1 channel mode too.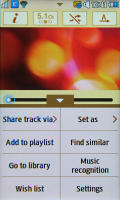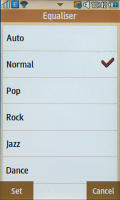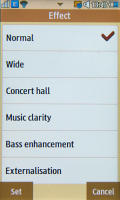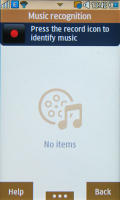 Find Similar • Equalizer • DNSe sound effects • Music recognition
The Find music service is a tap away and can be used to identify music playing from somewhere else, e.g. at the café, by sampling about 10 seconds from it and looking it up online. There's also a Find similar, which looks for songs similar to the one you're currently listening to.
Radio has RDS, can record too
The Samsung S5260 Star features an FM radio with RDS. There's an option to record radio broadcasts as well, which can be a cheapo way to get individual tracks or whole music sets off the radio.